dateline: South Bend, IN
0701 hrs EST, 11Oct2014
Alert: contains no Airstream reference; low in calories
Romeo (aka David) and Juliet,
The weather rarely cooperates but that never dampens the spirits of the many attendees.
……or the charming host family.
Appears you were snakebit again by the iffy fall weather on 4Oct2014. As long as the pizza was hot, the brews cold, and the pumpkins ripe enough to bake a pie, who cares. Today, one week later, it will probably be clear, a glorious fall day at the peak of autumn color.
I opted to attend the French Lick concours, also s#itty weather, an o.k. event, but somewhat starchy and a return visit….doubtful. Mostly rich white folks, somewhat cliquish, several regulars on the Amelia, Meadowbrook, Pebble glamour circuit, where it's proper to wear a blazer, a white panama + have people (staff) to trailer your car(s), prep them, then return home without a single soiled owner fingernail, so help me Maybelline.
Some interesting and rare iron, however, the featured marquee was Shelby Cobra. Really, after looking at 20 white with the two blue stripes, chromed rollbars, some real, some "signed" by Carroll, some 're-creations', mustang varieties; all I could do was look in the mirror and spell nway backwards.
I did meet up with a new 300SL friend, Phil Brown from Oak Brook, IL and rode shotgun as his navigator on the Sat. rally. He bought his car in 1971 when he was 17 y/o…hammered it like a threepenny nail until 2004, then had it restored to 95+ point by Rudi Koniczek in Victoria BC. The color scheme has the "wow" factor.
The 100+ mile drive through the rural southern Indiana hills was exhilarating. Two upscale private collections* made nice stops.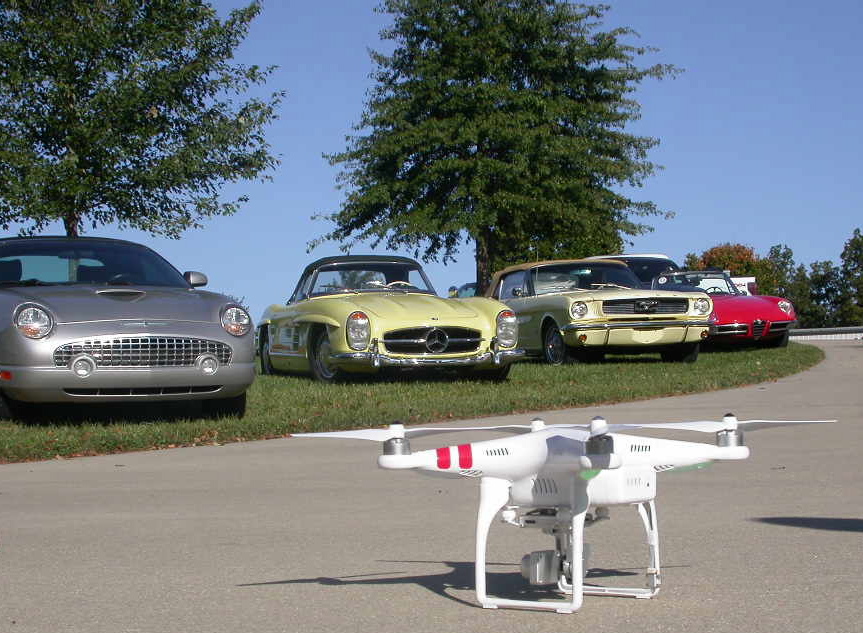 Sandwiched by a retro T-Bird and Mustang,
Stalked by a drone
Phil drives (doesn't trailer) and isn't fearful of having fun, so he would never win crystal on Sunday. Translation: his dirt wasn't as attractive as the others dirt. A good guy, very knowledgeable, with an interesting garage of euro cars.
Bottom line: the 1st Sat in Oct. will be reserved for Fennville in the future.
Cheers
Chas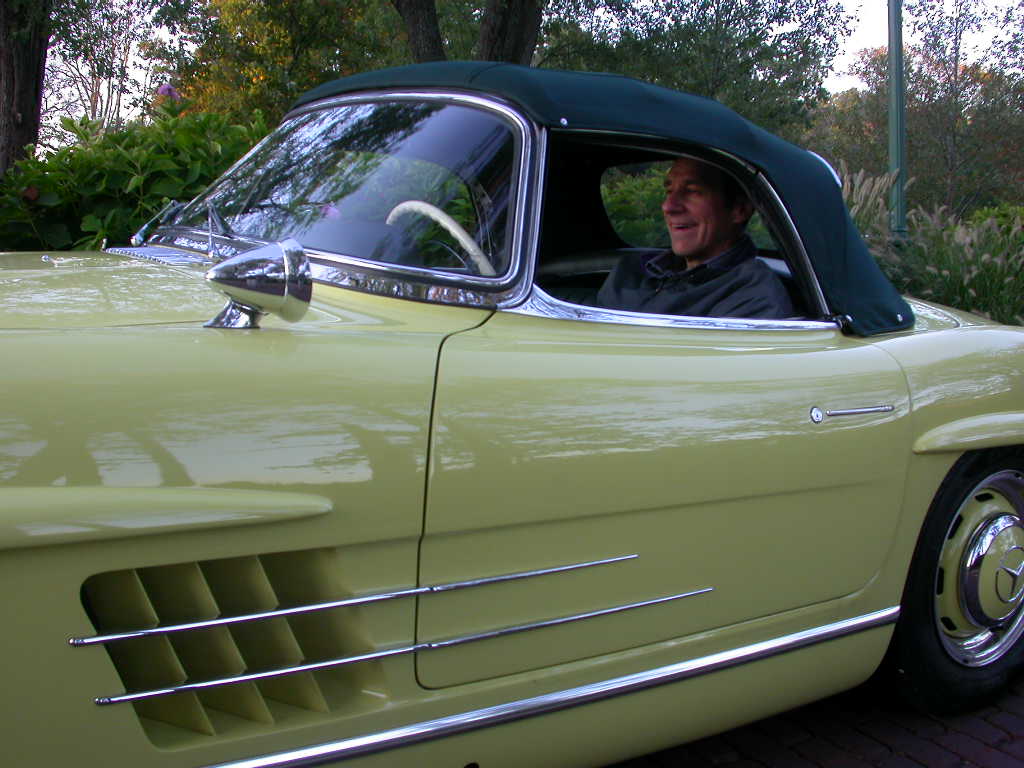 Phil Brown, a 60 y/o, serious cancer survivor, behind the wheel of his 1957 roadster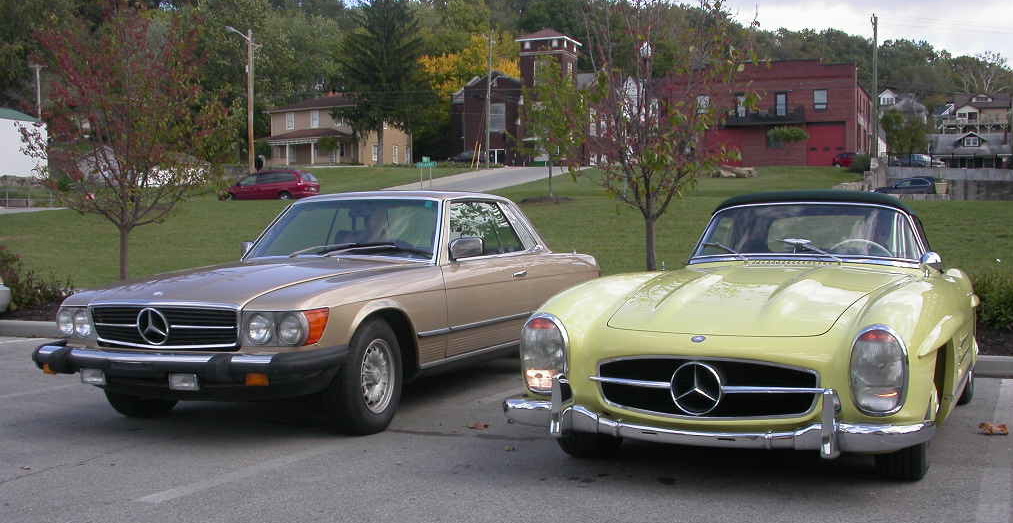 ⬆ Our 'rare' 1981 380SLC juxtaposed with PB's common 198 chassis. Sadly, the canary with dark green rag-top on the right is worth 2X the gorgeous closed coupe on the left ?…NO…20X….?..NO…try 200X. Life, like the weather, is often unfair.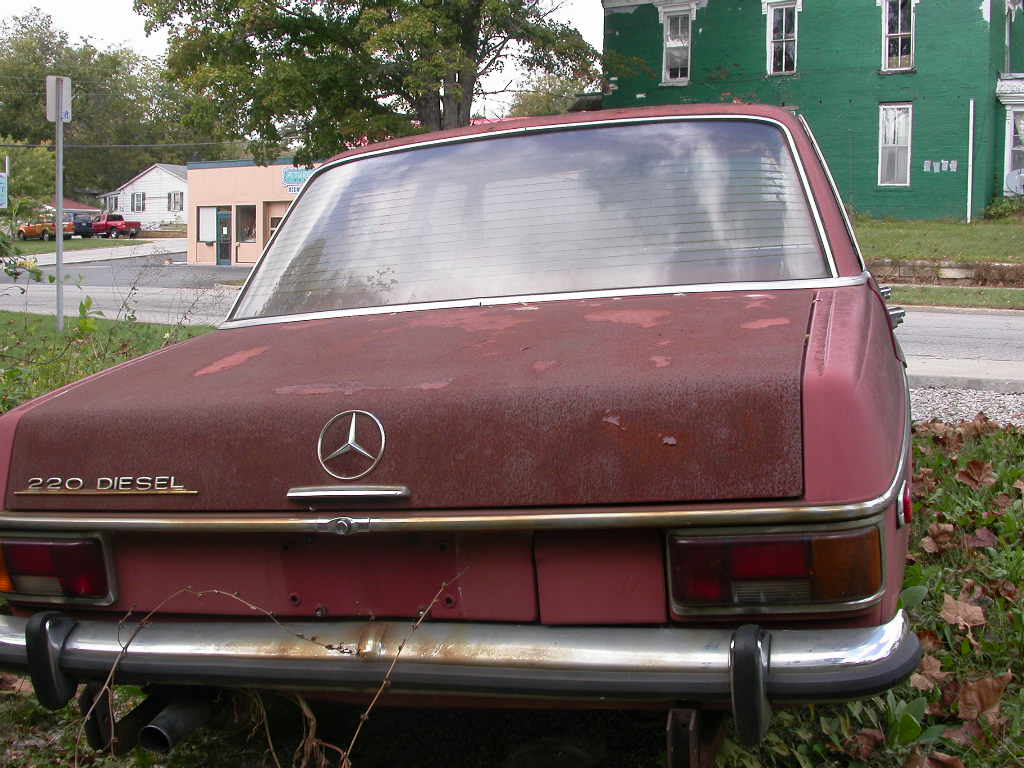 ⬇⬆ The 'people's choice' on the highway went to this 114 chassis, a 1972 220D sedan spotted in Paoli, IN. Featuring seborrhea dermatitis in the popular ferric oxide shade, all original.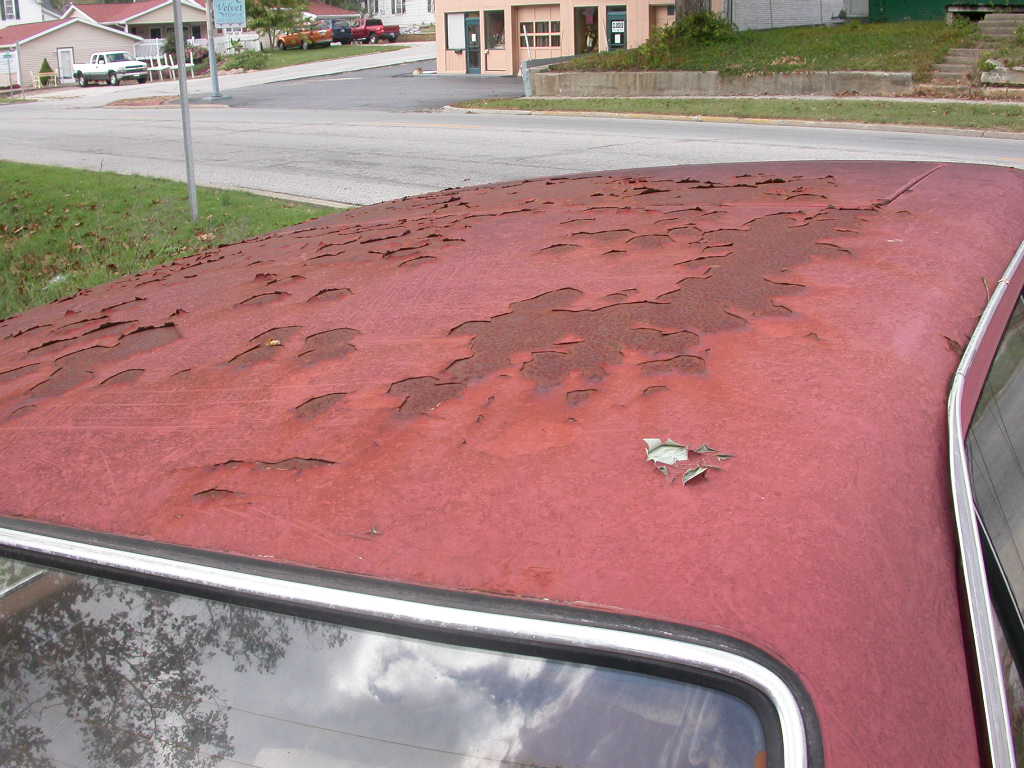 Optioned with dandruff and the desirable sun roof and; think of it as dandroof. Get out the Selsun® Maroon

*© WDRB, Louisville,KY
insightout©2014