Jack…..January 1, 2004-December 28, 2013.
He arrived at our Airstream 8 years ago, 20 pounds of sleek black hair, lightning quick on four legs, a small mixed breed without aristocratic provenance…simply a 2 y/o terrier pup rescued from an Indiana shelter by a caring high school English teacher.
He soon adapted to our habits and quietly, systematically, tranformed us into the pet owners he knew we could be.  He walked me daily.  Everywhere and anywhere, never allowing me a measure of physical decadence nor denying him the joy to discover the infinite aromas in the real world.  We were a team, Jack and me, and then we rested.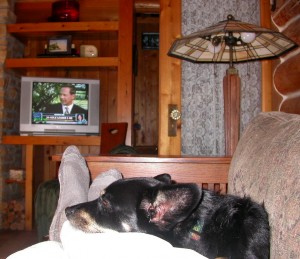 Accomodating to golf on TV, which he found quite boring
Jack became a friend to everyone, a special intoxicating presence, who knew when, and where, and how much, the human world needed him. He had an aura.
Charisma.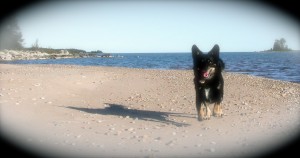 Play ?  Nothing better than a day on his beach or chasing a squirrel
In the past month, in blatant disregard of the dogma, 'you can't teach an old dog a new trick', Lynn had, with the aid of a few treats, taught him how to dance.  No threat to Astaire and Rogers, they managed a nice tango together.  At the least, they thought they could dance.
He was, like so many family pets, a dog for the ages.  My constant companion for eight years, connected together at the heart, the emotional vacuum will heal over time.  It must.  Those of you, like us, who have outlived their special companions, know the emptiness.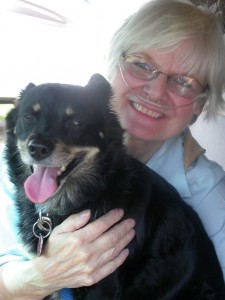 Jack, on duty 28Aug 2011, 9 days before Lynn's transplant call,
               he sensed the future before everyone else
He had watched over Lynn during her most trying days, allowing her spirit to soar when she needed it most.  The intimacy, while snuggling together, created a bond like mother and child, one they shared to the very end while she caressed that face during his final breaths.  The breaths that ended too soon.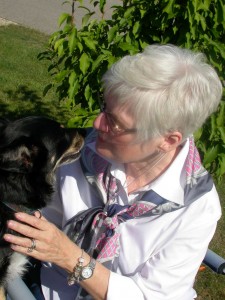 One little kiss, no more
The tears we are shedding…..they are the tears of joy and happiness, thankful for the years he gave to us.
For Lynn, she'll never forget, Jack saved the last dance for her.  Tiptoe to heaven little guy, you were the very best.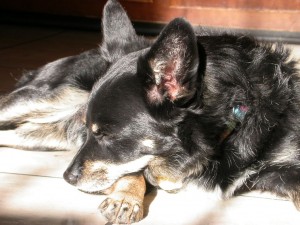 insightout© 2013
In memory ☗ of:
Heinz, Kramer, Yooper, Sage, Teddie, Sandy, Louie, Brandy II, Cinch, Ruby, Penny, Norah, Zimba