−A cold morning, Saturday, 24Feb1973, Worthington, OH just north of Columbus, and the salesman, one Red Skinner, delivers.  Chocolate covered strawberries, helium filled balloon, singing telegram…none of the above.
It's a car, a modest 4 door, entry level sedan, brand new, 4 cylinder diesel from dealer Ed Potter's Mercedes Benz-Renault.  A surprise gift to one Frederick Ray, on his 50th birthday, special order from his wife, Dorothy ('Dot').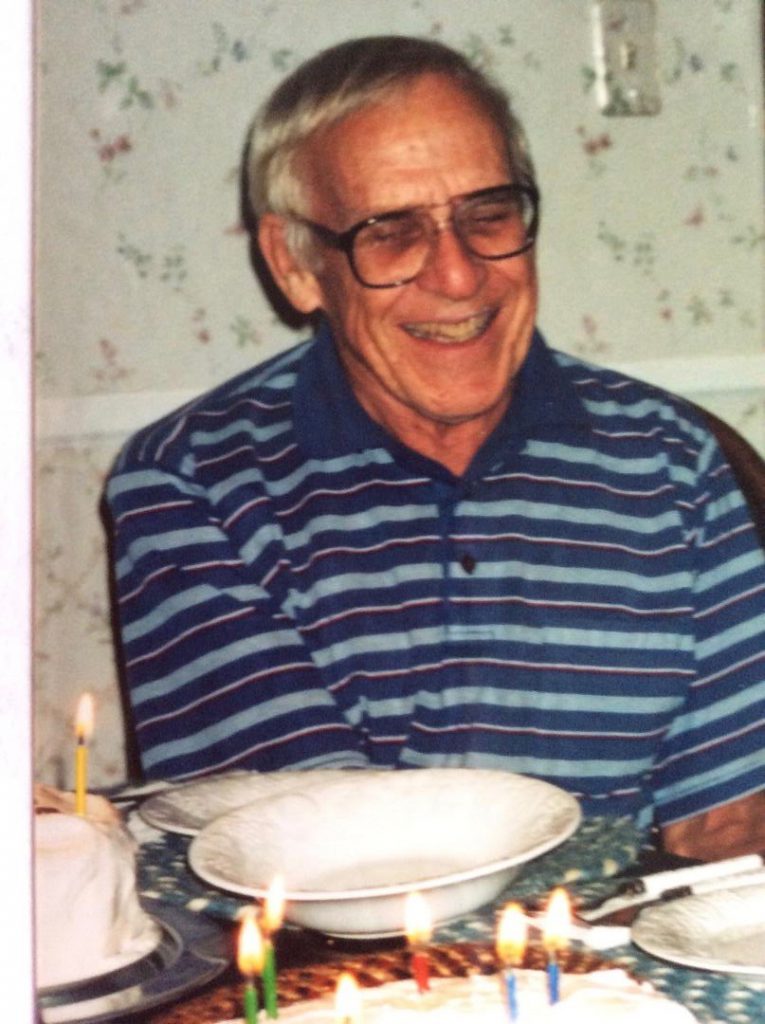 Fred, a civil engineer/bridge builder/shade tree mechanic, admired German cars, and this beauty, in his favorite color, Db 430 Harvest Beige, was identical to the VW Beetle in their garage.  A 'plain Jane' to some, the Rays adored the match and vowed to save the 220D for special occasions.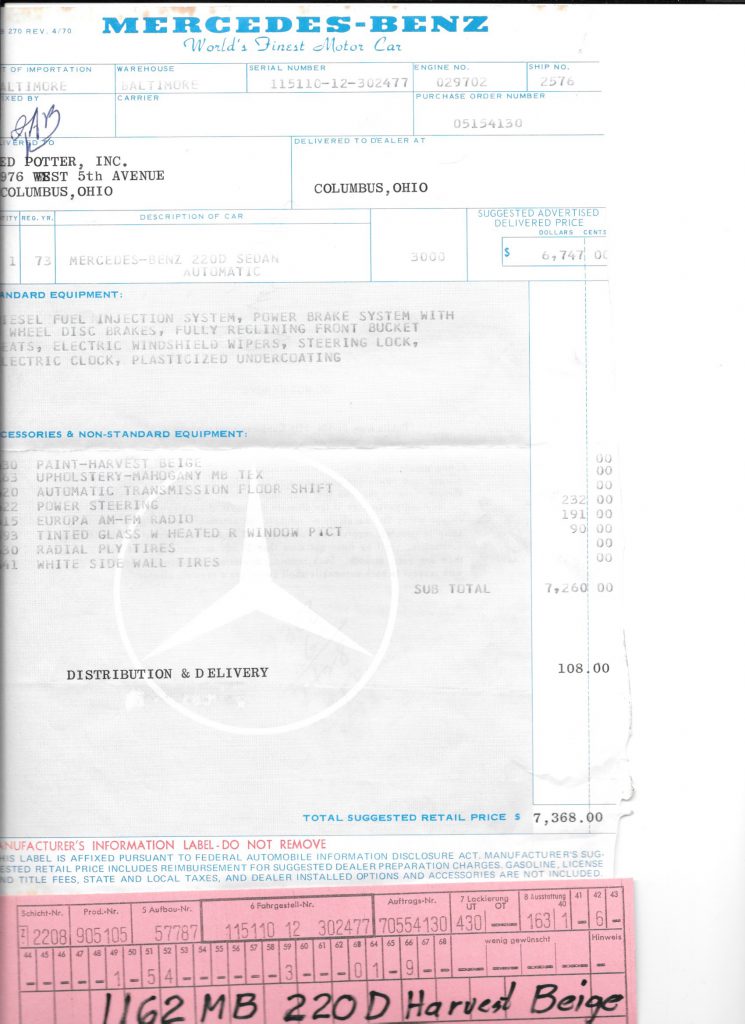 As a childless couple, Fred enjoyed his garage time, the maintenance and care of the Benz was a passion, as he meticulously archived handwritten notes.   Noted too by a young neighborhood kid,  Jonathan Karnes, who visited often.  Fast friends, yes, but a metamorphic, surrogate grandfather/grandson bond emerged.
Dot's odometer ended in 2003, mileage on the Benz, 26,576.  Rarely driven, Fred, too, passed away in 2013, age 90, mileage 27,003. The estate directed Jonathan inherit the car, although now grown, attending medical school, soon to be a 4/yr resident in orthopedic surgery, Morgantown, WV.  By necessity the car slumbered, as Jon, married, with small children, the chief resident accepted a post doctoral year in spinal surgery in Madison, WI.  The time had come to sever the umbilicus, an early 30's physician with career and responsibility, surrounded by objects from Hasbro®, Fisher-Price®, and Tonka® in the crosshairs….the sedan needed a new home.  On 7April2019, the ignition keys and baton were passed to Insightout….mileage 27,571.
https://bringatrailer.com/listing/1973-mercedes-benz-220d-3/
The stunning simplicity, French designer, Paul Bracq's exquisite lines promise to resonate with age.  The current overload of tech advancement, unnecessary drivel of rear camera video monitor, g.p.s., parking assist, power excess, gadgetry ad infinitum has drowned the sensual pleasure of the freedom to drive. Where did we  go astray. Mercedes provided Dot, the minimalist, with the following for Fred's enjoyment:
automatic transmission, AM-FM radio
power steering, power 4 wheel disc brakes
electric windshield wipers and clock
Paul Bracq graced us, a 270° greenhouse view, through tinted windshield, peering over the graceful arc of the hood, squared off fenders to the three-pointed star, and Dot thankfully excluded:
power seats
power windows
power antenna
cruise control
keyless entry
air-conditioning
heated seats, bluetooth, tilt wheel, yada
granite countertops
Yes, 0 to 60 mph times mean little, and an easily achieved top speed of 83 mph is rarely necessary, and yet, a finely tuned 46 y/o gets 28 mpg.
Commentary during the internet auction alluded to the pouring of cold honey;
'teaches both the driver, and all followers, patience'
'fun to drive a slow car fast than a fast car slow- and this is a SLOW car'
'lethargic performance, like it was on a heavy dose of Valium'
'you have to choose either "lively" or "relaxed", this an example of the latter'
'on an unincorporated country road, where it's never hot, all day to kill, this could be the perfect car for you'
Collectors are inclined to name cars, usually in the feminine tense, which is peculiar, as the vehicle does not have headaches, a menstrual cycle, nor succumb to fashion or footwear fads.  Hence the 220D is simply, Fred.  
Not Frederick, not the teutonic Fritz, just plain Fred.
In honor of both Mr. Ray, and Paul Bracq, I designed my own vanity plate…which says it all.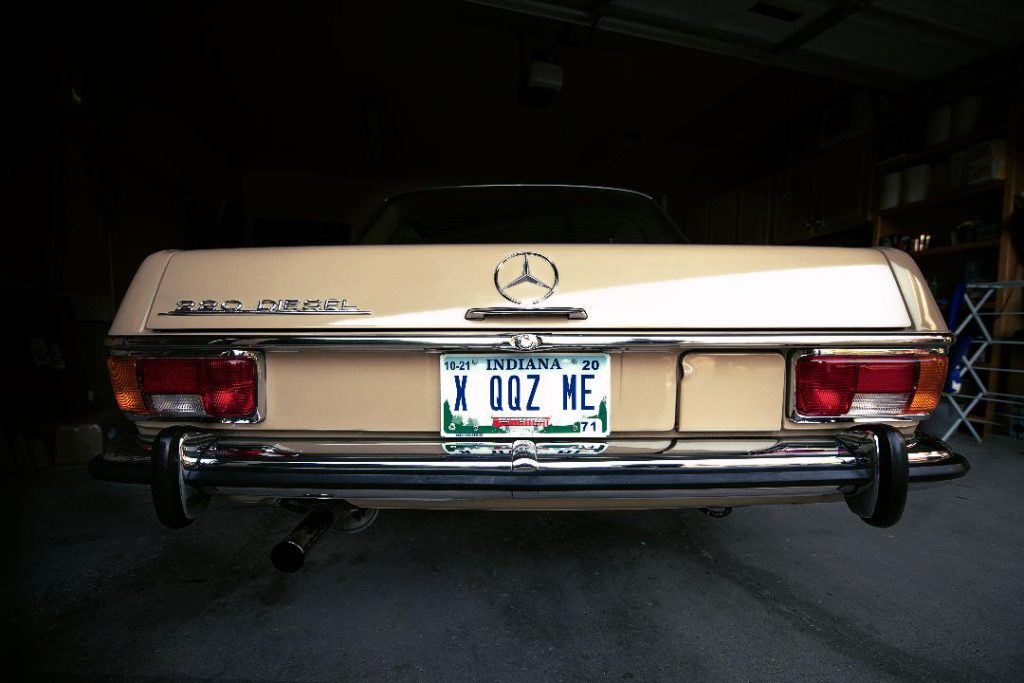 ©insightout2019
Special thanks to Jonathan Karnes MD, & his father Jim, for (a) providing personal details, and (b) their thoughtful stewardship for 6 years.
David Z. Kil, photographer, for the finest rear view ever conceived.
Cartoon, courtesy, Crown Media Holdings®, 2018
And lastly, to Fred Ray, whom I never knew, but whose spirit will always remain although, at time & ½, my mind cannot find the words of gratitude. For the best ride ever. Today's mileage, turned, with zero digital assistance, 28,000.