An old Hoosier geography lesson states, "North Vernon is in southern Indiana, South Bend is in northern Indiana, and French Lick isn't all it's cracked up to be".
So I'm off to PUB 2015, 'Pagoda University, Blacklick', an unlikely burg east of Columbus, Ohio, to share owner experience with a peculiar group of devotees to a car produced, briefly, from 44 to 51 years ago.
In 1981, an internal urge, i.e., delirium, resulted in the purchase of an aging two-seat roadster, a 1971 Mercedes 280SL.  With an active business and two pre-teens, calling this impractical would be an upgrade.  Thirty-four years later, the "pagoda", so named for its reverse parabolic roofline, remains in our stable, running like a 'schweizer uhren' (swiss watch).
The group, known by its chassis designation, W113, is an internet fraternity bonded in the digital universe.  Aside from 27 states represented, there are 11 Canadians (Ont, Que, Manitoba, New Brunswick), two Australians, a Swede, Frenchman, and a Dominican, all of whom have 'met', online, through the club forum and now transformed into a band of brothers.
The unlikely meeting place, the shop of one Joe Alexander, a mechanical guru, personable yet unrefined, with two bad knees.  His milieu, two acres of shop surrounded by a jungle of cadaver cars, oxidizing under the watchful eyes of cannibals.  And poison ivy.
Few people knew that Jim Morrison named his rock group, The Doors, and wrote the lyrics to "Light My Fire" * in 1965 while under the effect of cannabis grown in Joe Alexander's boneyard.  The evidence below:
You know that it would be untrue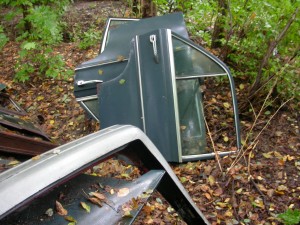 You know that I would be a liar
Attractive rumps on a damp day
Come on baby, light my fire
While the cars are the magnet, they are inorganic.  They are arbitrarily assigned name, gender, and personality when none exist.  They do not suffer headaches, menstrual cramps, or bi-polar disorders and cold shower alert, they don't know you own them.
The glue in this endeavor, an array of disparate individuals sharing a common passion.  Below, one Stephen B., a retired U.S. Army Colonel, wiping his near perfect example with a turkish towel.  The more he wiped the car, the cleaner the towel became: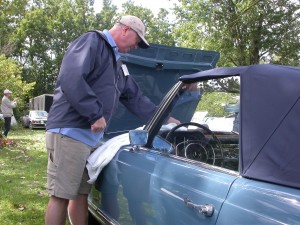 A PhD in mechanical engineering, from Quebec,  Inna S., articulate advocate of higher learning: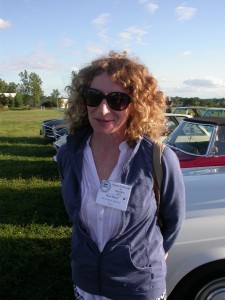 Below, Rolf D. (333miles, London,Ontario), Johan W. (3333 miles, Gothenburg, Sweden)
compare odometer readings: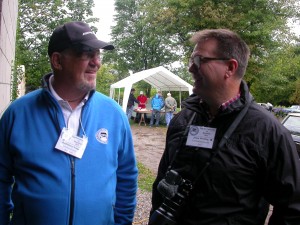 Come on baby, light my fire
Many too numerous to mention:
An accomplished oil painter, nearly anonymous in the crowd, with a handsome collection of cars cloaked in his loft
A state department diplomat (ret.) with an exquisite eye for detail, a Rosetta stone memory
Radiologist, used to viewing negatives, with a 15 year restoration in progress; a decade away from conclusion
A clothing executive (ret.), sharing this experience with his hometown friend and barber…a drag racer of renown
14 y/o Jacob, a grandson, who may carry the pagoda torch into the next generation
Former POW, Hoa Lo prison (aka Hanoi Hilton) USAF pilot and parachutist, whose identity shall remain private
A most memorable moment, sitting on the patio after a delicious Sat. evening dinner, watching the sunset over the Columbus skyline, in the company of three German émigrés discussing the homeland;
Rolf D, Canada, struggling over his wife's declining health
Gernold N,  Arundel, Maine, mechanikermeister, born near the French/Belgian border
Urban J, Duluth MN, recently widowed, a transplant from Dusseldorf
The wine, average, the conversation was not, as the latter two enjoyed fine cigars of Cuban heritage.
Doesn't get much better than this……..Blacklick trumps French Lick.
    Try to set the night on fire    
* 'Light My Fire' lyrics, courtesy Manzarek/Rothschild Production