fifteen minutes may save you 15% on car insurance, if Sally Fields bones don't petrify from an overdose of Boniva during the commercial break.  Do third tier celebrities with cheap cosmetic surgery really lose weight on the UPS delivered diet plans, and if so, why does the 99 pound Oprah (as seen in her "O" magazine) appear to be a morbidly obese Charles Barkley in drag everyday at 4 PM ?
Perhaps I need to turn off the TV.
Like the nearly 400 million Americans who aren't on the guest list for Chelsea Clinton's wedding this weekend, we have selected an alternate entertainment venue.  Apparently neither she, nor her ambassador mother Hillary, had the foresight to register at Target or Sam's Club, so we can take the money otherwise reserved for her elaborate shower gift and head west to Saint Ignace for fun, fudge, and ice cream.
Saint Ignace, aside from being the gateway to Mackinac Island (#1 tourist attraction in the state of Michigan), is also home to the Castle Rock.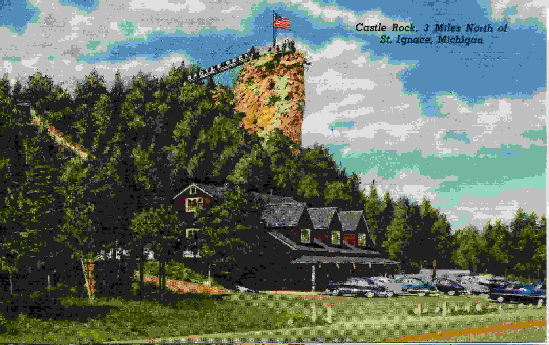 As seen in the Curt Teich colorized postcard, circa 1955
and Indian Village, America's oldest souvenir shop founded ~ 1797.
Or whenever the neon teepee was first introduced.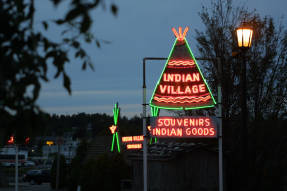 Your source for genuine Indian spears (rubber-tipped)
St. Iggy, to the locals, is a picturesque waterfront town.  Real estate is plentiful and cheap, as are the motels.  The names mirror a dry town in Nevada;
Or the cottage style of the 1940's, complete with quaint mildew;
The Cedars
The Evergreen
The Pines
Tradewinds
And the ubiquitous, nautically-themed, so-so beach community restaurants;
The Dockside
Galley
Bay View
Driftwood
They have the best summer car show south of Canada and north of Minneapolis.
Above, an Amphicar, a failed project in the 50s.  Both a car and a boat, it was sore excuse for either.
The USCG icebreaker, Biscayne, useful in rescuing amphicars
A 50s Ford lowrider truck towing a Serro Scotty
And below, an unidentified colorful character to match
The now slow recovering Michigan economy can still provide cheap thrills.  In St. Ignace you can buy homes with water views, on the water, or in the water for next to nothing, except that you must endure a month of spring, a month of fall, and seven months of winter.
(full disclosure: I have no financial interests in St. Ignace and am not a paid spokesperson for the chamber of commerce, although I have lusted over the lady who renews boat licenses at the DMV)
It's nearing four o'clock, time to tune in to the Oprah show for the newest buzzword, "teachable moment" ( find two better words in the English language that can convincingly signal saccharine insincerity.)  It will either be about food, women, and God, or the latest fad diet, 'how to lose forty pounds by Friday eating four minute fondue'.