Most of us practice local holiday traditions, often unpublicized and relatively obscure, that enrich an otherwise mundane existence.  The annual Labor Day Walk over the Gogomain River Bridge is no exception.
Begun in 1991, as a stylistic parody of the more pompous, famed Mackinac Bridge Walk, which, on the same day annually draws participants in the tens of thousands, politicians, media and other undesirable elements like people from Ohio, Arkansas, and Canada.
The Gogomain River (the Michigan DNR defines it as a swamp) bridge, 150′ in length, is isolated in a nearly uninhabited area, Raber Township, ten miles from the nearest "town", Goetzville, MI ( pop. 47).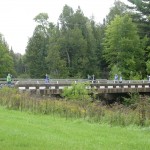 View looking east
On this Monday, for the 19th year, nearly 200 walkers (including dogs), prompted by the roar of a cannon shot at precisely 12 noon, embarked, enthusiastically, the entire length of the bridge.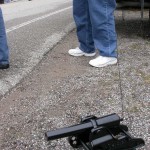 Big boom in a small package
The walk finished at 12:05 PM.
The entire event is high-spirited; neighbors, families, and friends enjoying a tradition that is not exhausting or laborious, with no commercial interruption.
An unidentified Dad and a freeloader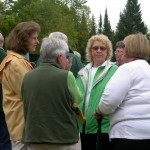 Pre walk conference
Celebrities from upscale DeTour
No entry fee, no age limit, and the event organizer, the locally popular Petersen's Country Store on the north Raber Road
offers classic art-deco commemorative T-shirts for only $12.  You can't buy one unless you cross over the bridge…and leave your reckless life behind you. Everyone receives a certificate of participation, suitable for framing, at no charge,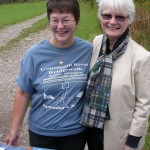 L-R Jean Petersen & a customer, Lynn Spiher
From DeTour Village, Rene and Chad's landmark, The Garage, provides a hot dog AND a 6 ounce Coke for only fifty cents.
Not a misprint, $ 0.50, no need to check your credit score here.
No Al Roker, no CNN, no Oprah, here they come, step aside.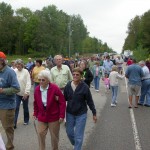 This is not the Mardi Gras with beads and drunken frontal nudity. Nor Sturgis, SD, where tattoos outnumber teeth and Harleys.   Or the high-end cliff walk in Newport, RI, glamorized in another blog.  If moderately civil, you are welcome to join in 2011, the 20th anniversary, but don't tell your friends. Let them live through you, vicariously, or it might become unruly, perish the thought.
The walk is just the salvo pre-empting next week's highly anticipated Stalwart Fair, the Presbyterian Church turkey dinner, and draft horses pulling 7000 pound sleds.  It doesn't get more exciting than this, and I only have one tattoo.