A journey through rural western Ohio, en route to the epochal trailer rally, Alumapalooza III, loses traction when my Lynn, the navigator misses the turn.  Ford may make the 'Lincoln Navigator', but we're driving a 'Silverado Who Don't Know', the pre-GPS version.
The detour in Mercer County leads us to Maria Stein, OH, which every inquisitive traveler might ask, 'who was she?'  Who gets a town named after them ?  I imagine her to be an attractive redheaded Jewish girl, virtuous to a fault, the incarnate likeness of Iris Ephron, the cute, raven-haired beauty that I lusted over in high school, 1957, petite, sassy, and sexy.  Ok, ok, maybe a redheaded Jew was a genetic anomaly, but she had the "is" and the "it" factor.  Leave it to Bill Clinton to define 'it' and 'is'; my lips are sealed.
Prepare for deflation as there is no Maria Stein, the person, but a town named after a community in Switzerland; Mariastein.  In Ohio, it is home to the shrine of the holy relics (they store desiccated body parts of deceased saints) and the St. John's Catholic Church in this land of cross-tipped cathedrals.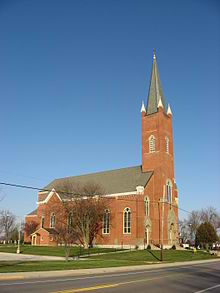 The church felt odd.  I cannot explain why I walked in, but the doors were big, and open, and the day, a day celebrating memorials.  No one else was there….not even a woman in black on her knees.  Columns with fading paint stood alongside like old comrades.  Most of the place was plain, and worn, and well scrubbed.  The gilt carvings on the walls kept a safe distance.  The smell was not melting wax, not incense, not dust, not humid afternoon sunshine, not anything else I could recognize, but it recognized me.  Call it the odor of a hundred years of prayer.  The aroma of leatherette binding from weathered hymnals, the DNA of a thousand sinners.
A gusty wind from the south stirs the hair on the nape of your neck.  What passes are only what the wind blown clouds have chosen to reveal.  Shafts of sun spotlight tumble-down farms, pastures of livestock, and a lonely farmer tending to endless acres of newly planted grain.
We reach Jackson Center, Ohio, where for decades, no obtrusive progress has been made except for satellite dish installations.  The town has been preserved by middle class poverty, aluminum siding, a few tourist dollars, and an uncommon trailer manufacturer.  The main street is wide enough for a motorcycle to pass a model 9300 John Deere tractor pulling a 15 row nutrient applicator, if you enjoy becoming up close and personal with anhydrous ammonia.
Our destination, a small community of trailers filled with volunteers wearing ghastly orange tie-dyed tees, is gearing up for a week of frolic.  The temporary village flickered silver, the residents in folding chairs, and a nightingale practices her chords under a shimmering canopy of cottonwoods.  The rugs of grass so velvety that one's mind could roll on them, and beyond them, the sun set and vanished with the warm steady breeze.
(Alert: the following material may be deemed offensive.  If your computer has a parental control option, now is the appropriate time to activate)
The morning erupted in thunderstorms, much needed rain, and the emergence of two very attractive, damp redheads piloting a 4X4 Gator in search of a lost hydraulic winch.  This, as you probably concur, would make a good plot line for a grade-B movie.  Upon confronting the two unnamed individuals, I approached them, camera in hand, and asked if they would like to appear on my internet pornsite. 
Then, an unrehearsed audition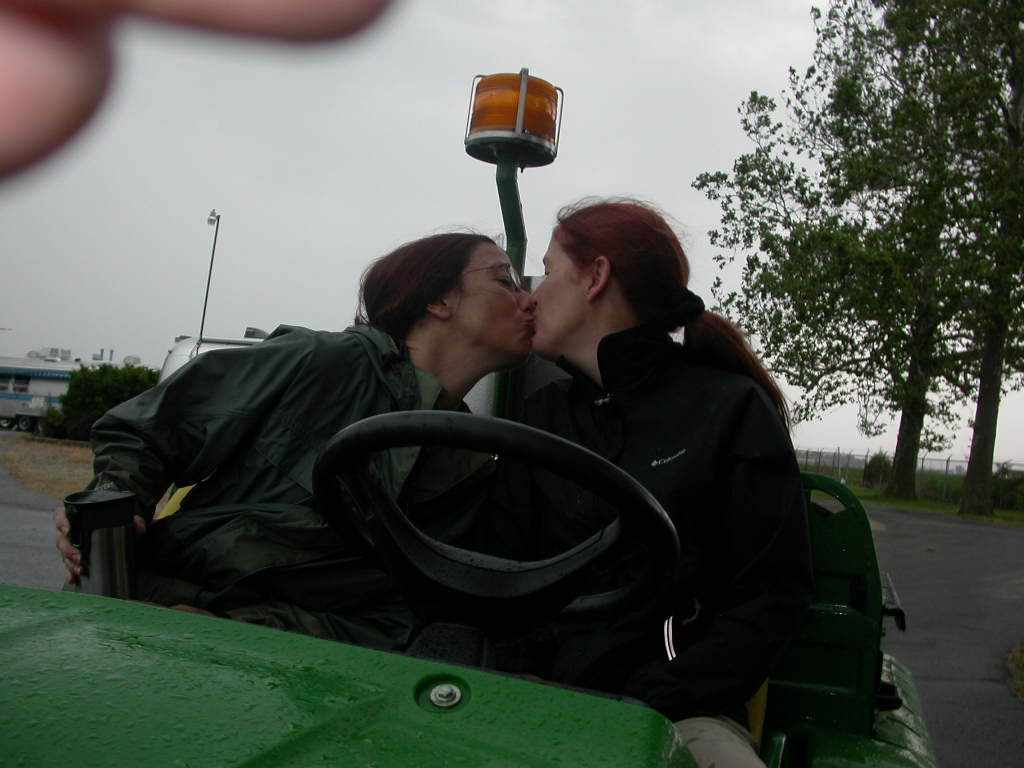 Life provides few (tweet translation delete) OMG moments; this required an investigation. Informed, unnamed, anonymous sources of questionable repute IDed the pair as one Eleanor O. and one Lisa F. Although probably an error, those names matched both their passport photos and actor's guild union cards.
This is going to be a very good week, so help me Iris.
©insightout2012