Carchitecture
VIN:
WDBBA25ABB002268
MODEL:
MB 380 SLC
MILEAGE:
93,250
Factory brochure 1981
In April, 1981, an engineer/inventor living in East Grand Rapids, MI, drove to Loeber Motors in Chicago to take delivery on a special order Mercedes Benz 380 SLC coupe.  One of only 3,789 produced from very late 1980 through 1981, the model designation was quite rare, however, adding nothing to the value*.  The MSRP $46,638 at purchase was reduced to $43,000 cash ( = $ 117,850 in 2016 $).
Norman Rautiola selected the coupe for his wife, Kathleen, who drove it 88,500 miles (~ 3000 mi./yr) until it was donated to the Holland, MI Hope Rescue Mission 32 years later.  Always garaged, no pets, non-smoking, the primary miles gained on the fair weather commute between Grand Rapids and the Nartron Corp. HQ in Reed City, MI.
CEO and founder of Nartron, Mr. Rautiola holds > 1400 patents, notably the first keyless entry system for automobiles, and in 1995 Nartron invented the electronic sensory device for touch screen technology.  Listed by Inc. Magazine as a top 50 innovator in the nation, the list of Nartron 1sts is extensive.  Of signifigance to car enthusiasts, many of the patents will be utilized in the inevitable development of the perhaps unwelcome "driverless vehicle".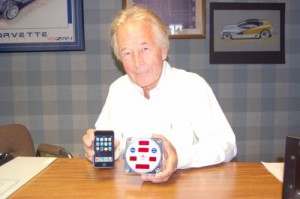 Courtesy JEFF BRODDLE | CADILLAC NEWS©, 10June2008
The Apple I-Phone on the left and the control panel on the right being held by CEO Norman Rautiola have one thing in common: sensing technology pioneered years ago by Reed City's Nartron Corporation.
As 2nd owner, I found the car to be exceptional, requiring attention to only normal areas of maintenance to drive in "as new"condition;
replacement of outer sway bar links, bushings, steering dampener, rubber suspension components
Oxygen sensor and idle control unit
Radiator hoses and thermostat
Precautionary, replacement of OE timing chain tensioner, strengthened timing chain guides, and new chain rails
Adding four Michelin Defenders, aligned and balanced, resulted in a safe, reliable, modestly spirited ride.  The profile is elegant, the 111 inch wheelbase a far more comfortable ride than the 97 inch SL roadster, and much better proportioned.  Although the roadster has the open top panache  (overrated), like ø Miss Piggy, the coupe, with the sun roof open, is like ♥ driving with Marilyn Monroe in shotgun.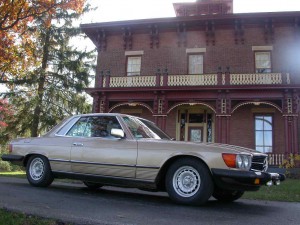 ↑ 2x click to enlarge
A big plus, the increased length and lowered footwells, allow exceptional room for two additional passengers…think, Helen Mirren and Vanna White.  Backseat comfort, unlike most coupe designs, which are restricted to dwarfs, snot-nosed kids, or double amputees.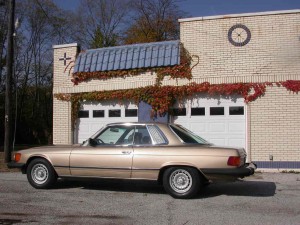 Finished in 473H, "champagne", the color varies from japanese pewter to gold, depending on the sun.
Note, below, two examples of the short version, which appear rather clumsy with the elongated bumpers.  Ugh, insert a frown face, in both directions, a double yuk.
Below
the burled walnut transmission, hazard, and window lift cluster
rear seat with armrest, sumptious pleated cowhide
unusual butt-end leather stitching (only year offered) vs. standard piping
Investment grade, the coupe would only rate a D, however, for driving pleasure at < 12% of the original purchase price, a resounding A for the purist. The coup d'grâce never sleeps, it just needs to be rocked.
 Not for sale
*IN THE U.S.A., 1972-1980, the same coupe wore a 450 SLC badge, and in 1982 it became the 500 SLC.  All three, virtually identical, less minor differences in cubic inch displacement of the V-8 engines. Euro versions were available in six cylinder, however few were imported.
©insightout2016