A 2016 trilogy, Colorado and Bust
Subtitle 1958 M-Benz, 190 SL roadsters on a 3000 mile R/T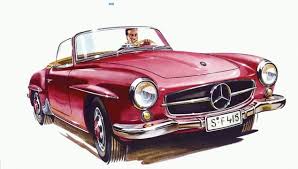 The opening bell has rung. Kiss Lynn and Wilson goodbye;
roadster : we have ignition 
westward to the first interlude, Westville, IN, a road bend with little Zen. However, any crossroad can evoke a distant memory.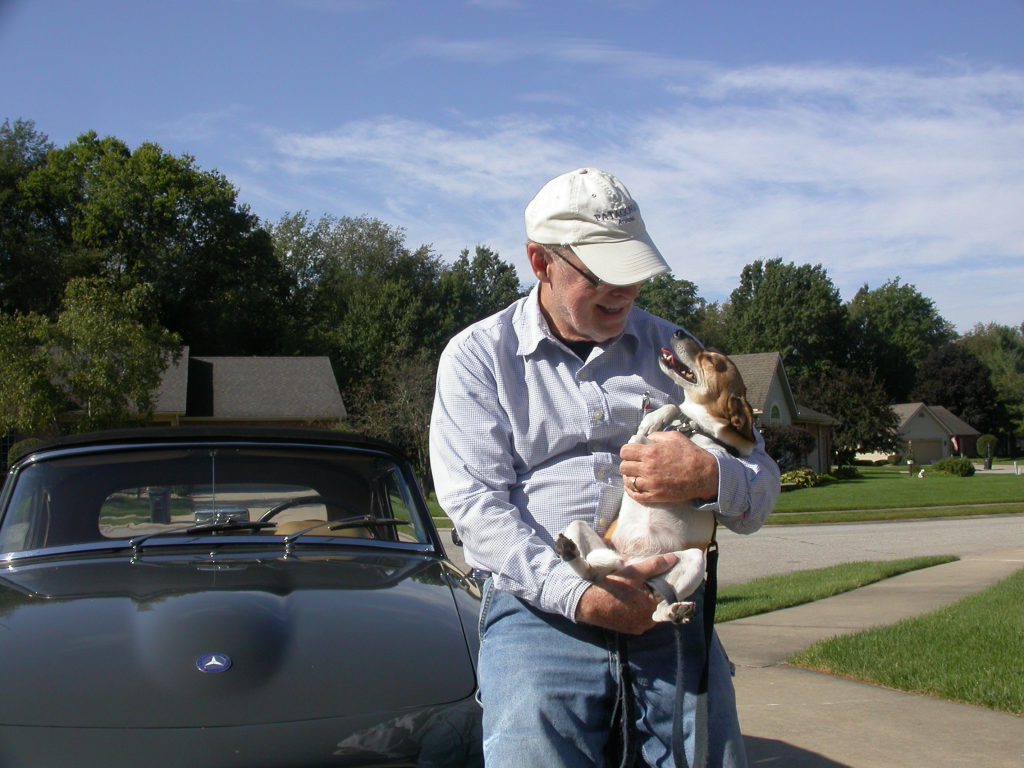 It was here, at the home of the Justice of the Peace, March,1935, two hormonally charged 18 y/o arrived from East Chicago, IN to elope, the brave somersault over parental approval of marriage.
Later those two teens were known, to me and my brothers, as Mom & Dad.
Meet with Traverse City, MI traveling companions, Don and Kathy Drabik, quick how-do-you-do, gas up, next stop Monticello, IL, the Main Street Pub for a cold one, and reconnoiter with Salt Point, NY's own, Brian & Paula Parker.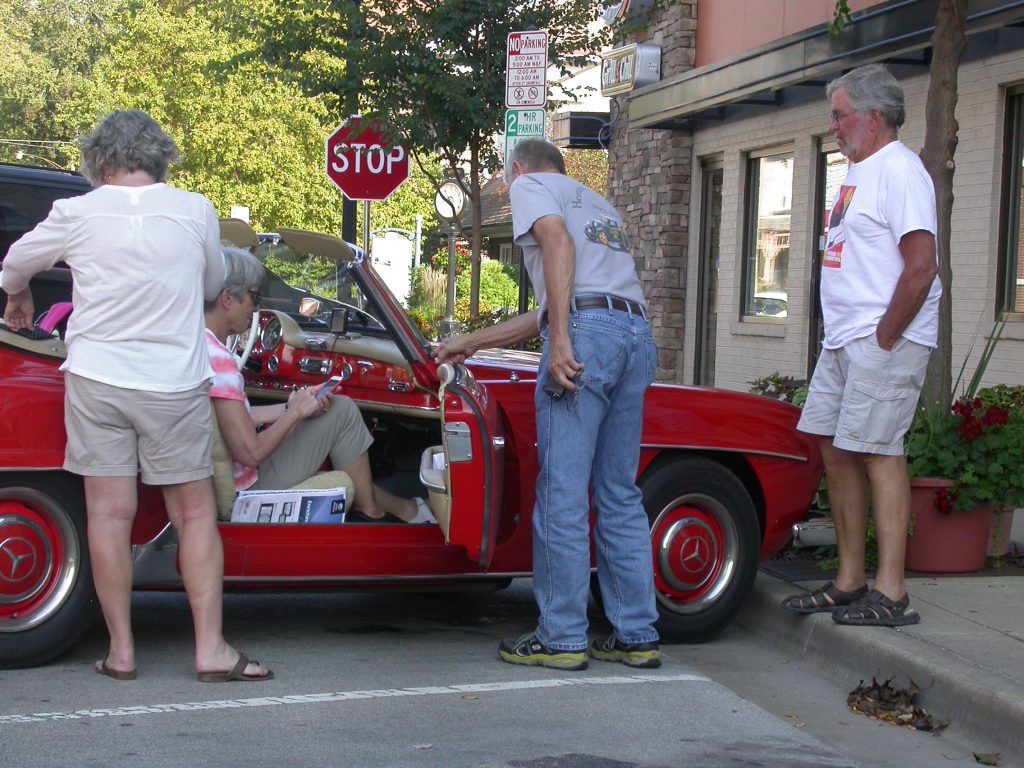 Careful examination reveals the Drabik's have secured a standard American stop sign, matched to the color of their car, and functions first as an attention-getter, and 2nd, as a working antenna for the Blaupunkt AM/FM radio.  People stop and stare.
A backroad strategy session of old friends plotting a new destination, Hannibal, MO.  A peaceful settlement on the mighty Mississippi, here the Twain have met, at the historical museum, notable for its exceptionally clean men's room.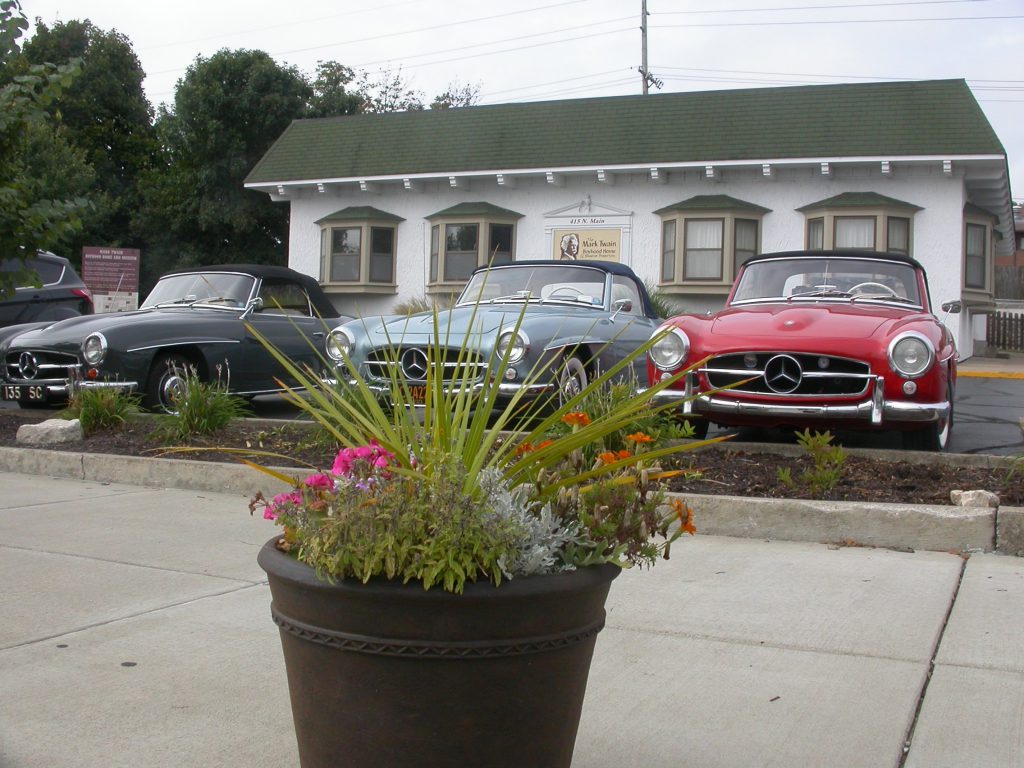 Allow now for a tangential drift from the blue highway to what might be viewed as the yellow road.  Three men, average age > 70, driving cars nearly as old, find three reasons for frequent stops
The 190 gas tank is = to 13½  US gallons, requiring regular refueling (the 3 R's)
Male bladders, malted brews, and prostatic hypertrophy, well, you get the whiff
Because my wife said so
Here then, never before discussed, is a description of male behavior at the urinal; (a) you may look down, look up, or stare straight ahead…but never, never look to your left or right, (b) zero conversation unless it refers to sports or some manly theme, e.g.,"how about those Cubs" or, "did you notice that tattoo on the barmaid's cleavage", and (c) aim for the para-dichlorobenzene, that pink mothball cake.
Women, I learned only this week, first thing, always, always, look under the stall doors. Rather peculiar, but it must avoid the embarrassment of the abrupt squat stare. Can you sense I'm not ready for the trans, uni, or same sex bathroom ?
I will admit to being confused about the new 'waterless' fixtures incorporating the latest green technology.   Why not just pee into an empty Dasani® or Aquafina® bottle and drop it off at the recycle bin?   At issue is the number of urinal manufacturers A-Z made in the USA; American Standard, Kohler, Regal Sloan, Zurn, and then there's Toto, the clever Japanese upstart where nothing is sacred, including Holy Mary.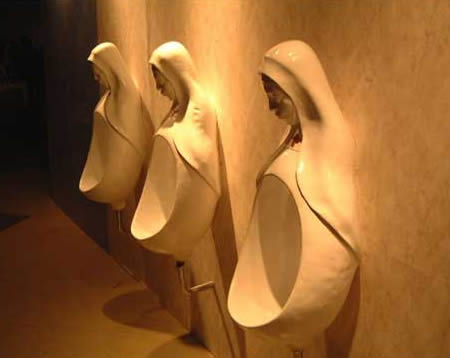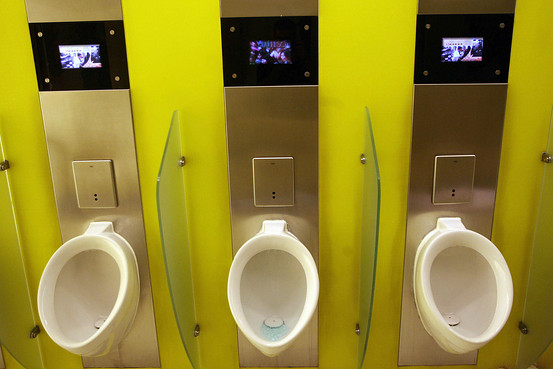 Or above, go whizz while watching a quiz .
In spite of Toto's contribution to male relief, it is unlikely that the stolen intellectual property of MGM's Wizard of OZ pet canine, Toto, will ever receive the royalties to which he is entitled.  Would it be politically incorrect to refer to the Japanese as "The Yellow Peril", like we did in 1946 when Dad was a returning marine ?  Sorry.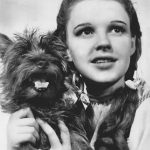 We have no interstate highway in our crosshairs, crossing into the heart of this great country, next stop St. Francis, KS which is not the boyhood home to the current Pope.   Marysville, KS tourism booster is the black squirrel population, countered by Norton, KS located near the Prairie Dog State Park, although it's rumored that no prairie dogs actually live there, having moved to states with more favorable property tax abatement.
Our KS zoology lesson is near complete as we ride parallel, FedEx trucks to the left and the original Pony Express Trail on the right. Nearly every sizable town, if there is no Arkansas big box store, boasts its largest, most successful business, the John Deere Implement dealership.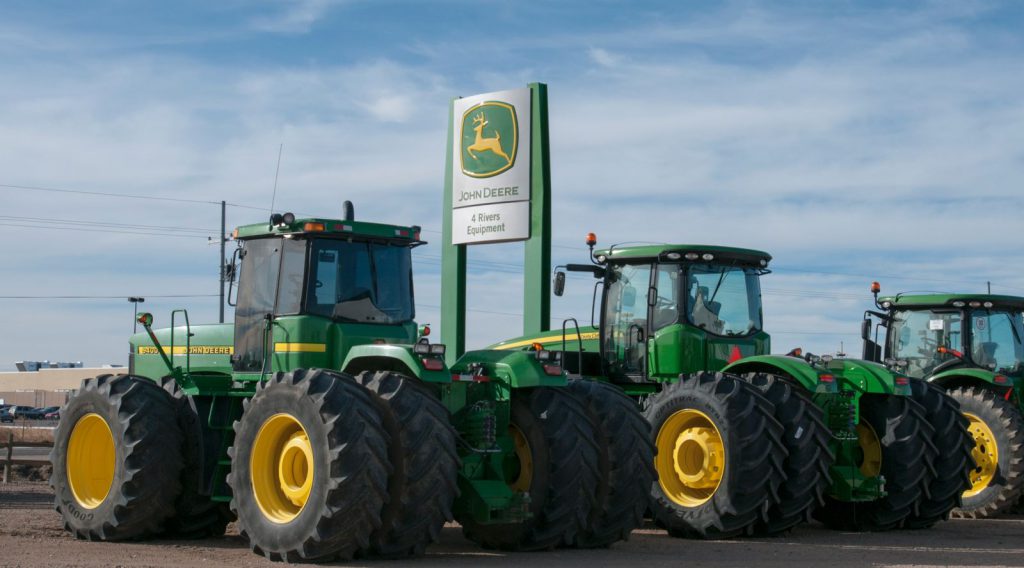 One of these, a used JD 9430 will cost as much ~ #2 condition 190SL, except,
The J-D has A/C
power steering
auto trans
cruise control
self cancelling turn signals
on board wifi
and it BEEPS in reverse gear.
Passing through Smith County, a billboard announces the writer and home of a man named Higley, who penned the state song of Kansas, "Home, home on the range".  For an hour, driving alone in the car, I am loudly singing….Ohhh give me a home where the buffalo roam where the skies….I'll let you, the reader, finish the lyrics.
….to be continued where seldom is heard, a discouraging word, next, motels on the road less traveled
" The secret of getting ahead is getting started." Mark Twain, 1896
©insightout2016