In brief, my wife, Lynn, terminally ill with a rare, incurable pulmonary disorder, rose to the top of the recipient list for a double lung transplant in June 2011.  In anticipation of her rapidly declining health, we moved to Rochester, MN, in our vintage travel trailer, to await the call..
The scope of her illness, surgeries, prolonged hospitalization, and modest but slow recovery is very personal and not the subject matter.
In a hospital corridor, I had a brief conversation with a chaplain, who described a blog program called Caring Bridge, a personalized patient website to elaborate on your health journey ( imagine facebook ® for the faltering).  This did not interest me at all.  But the tangential reference to bridge, a game I had nearly forgotten and abandoned decades earlier, created a spark.  First, imagine you are living in an aluminum womb, in an unfamiliar city, transients in an RV park. Waiting. Waiting.  Excitement was defined by the weekly visit from the oxygen provider, a new neighbor moving in perhaps with a pet dog to fraternize with my Jack, or a long walk on one of the 85 miles of trails.
On a lark, a search revealed rochesterbridge.net, and, hence, an attempt to find a game and partnership.  What followed was extraordinary.  In lieu of the 24/7 attention necessary for Lynn's care, bridge became a brief, welcome escape for two to three sessions each week.  No other activity, no sanity safety net, could have cured the loneliness and detachment from friends and family.
My approach to the game, while not flippant, was clearly irreverent.  Urged to join the national club, I soon adapted to the innovative bidding box, and began to explore the game's progress since Charles Goren, the guru of the 60's (he died in 1991).  Able to secure games, often at the very last minute due to the vagaries of hospital activity, clinic appts., and the volatility of Lynn's condition, nearly 40 different partners plunged into the darkness and together we gained an equal number of coveted "points" in the nine months.
The purpose of writing is to quietly honor all my partners and opponents for their kindness.  Every gesture, consolation, pat on the shoulder, no matter how seemingly insignificant, provided grateful relief for a damp hankie in the medical Maytag® rinse cycle.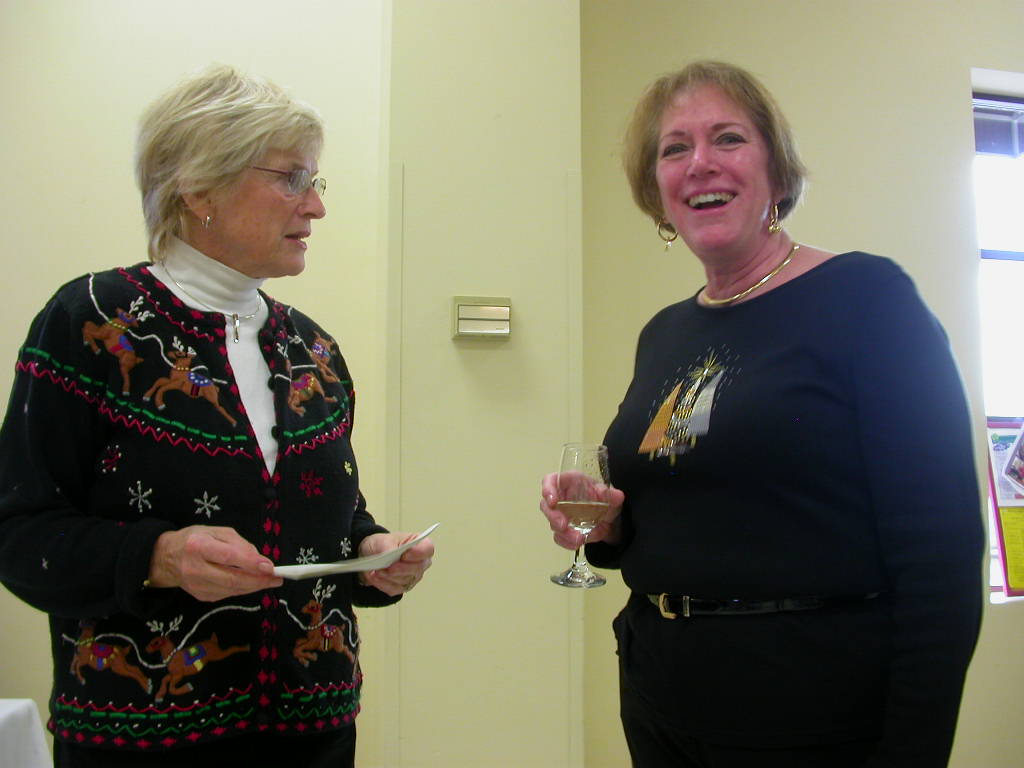 Joyce W. and Sue G.
As a group, do not be deceived, these people are clever, skilled in skullduggery, and neither generous nor sympathetic while holding 13 cards.  Bridge is war; firearms, knives, and nuclear devices are disallowed and must be left at the door, but who knows, the ACBL rules may one day be revised. At times I felt like the third string place kicker on the HS football team, facing the Minnesota Vikings linebacker defense.
'Did you hear who has to play with Charlie today ?'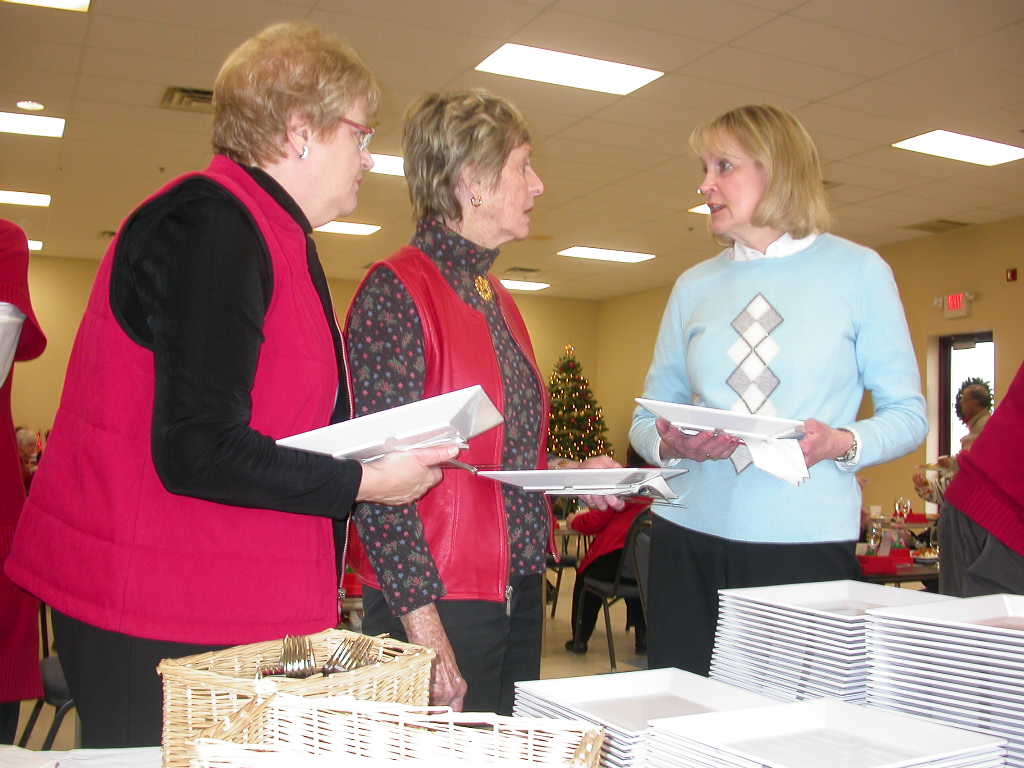 However, behind the tableside veneer, I found the players to be fascinating, intelligent, suitable characters in an Agatha Christie mystery, a joy to discover.
Dave H., Arne F., and Nate P., preparing for battle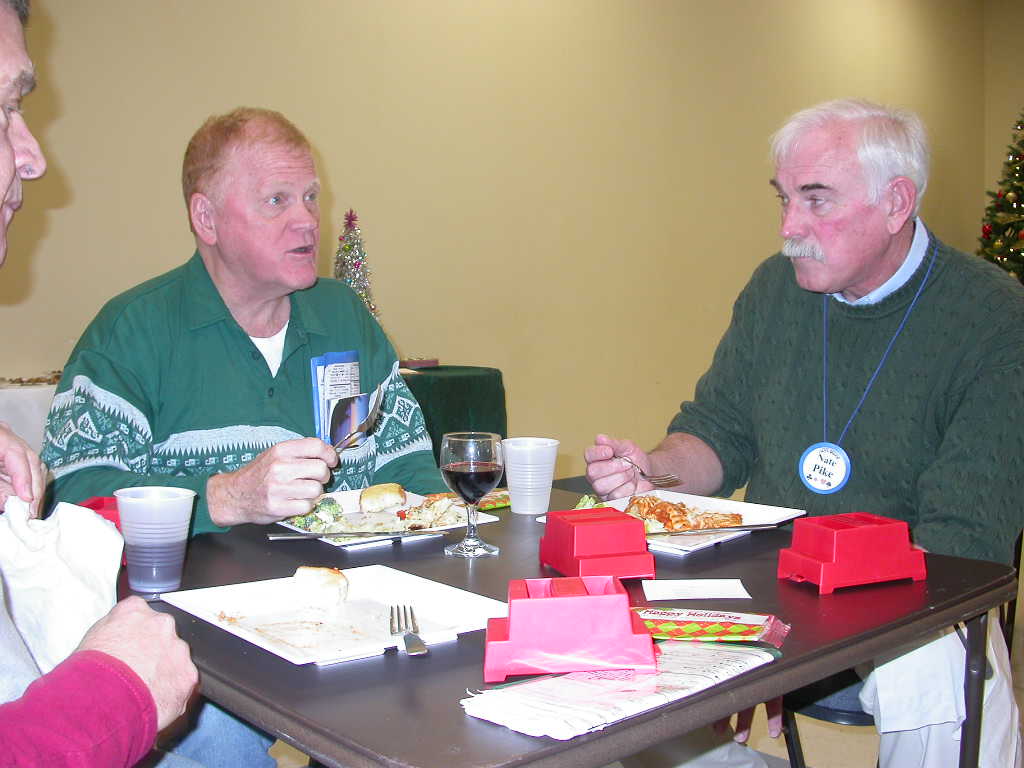 The polite façade provided cover for hidden modesty:
A principal in the largest U.S.A. sweater manufacturer
A deposed seed company executive
A non-practicing obstetrician
A child survivor of parent Holocaust victims
A crowned Miss Agriculture, mid 1960s, Iowa State Fair
A foreign service officer, post 1983 invasion, island of Grenada
A rural, dirt-poor, S. Dakota prairie child, one of seven, in a one bedroom house, one cold water tap, and an outdoor latrine
A classmate of Hillary (nee Rodham) Clinton at Maine East High, 1963-4, Park Ridge, IL
A PhD, UCLA, molecular biology
A retired Manitoban, expert in wildlife photography
Not one, in this educated, learned society of crafty players, admitted to working for the CIA, spending time in the witness protection program, incarceration, or being the subject of outstanding felony warrants.  This does not preclude any absence of guilt.  My secret desire was to become the Pope, but the stodgy church hierarchy insisted that (a) you had to be Catholic, (b) study Latin, (c) unmarried.   Prerequisites designed to eliminate the worthy, sooo…..instead of a filling a vacancy in the Vatican, I'm in a room in Rochester.  And every room has a purple elephant; the RAC meeting room, a haze of magenta, and I'm dreaming of driving, yes, the popemobile;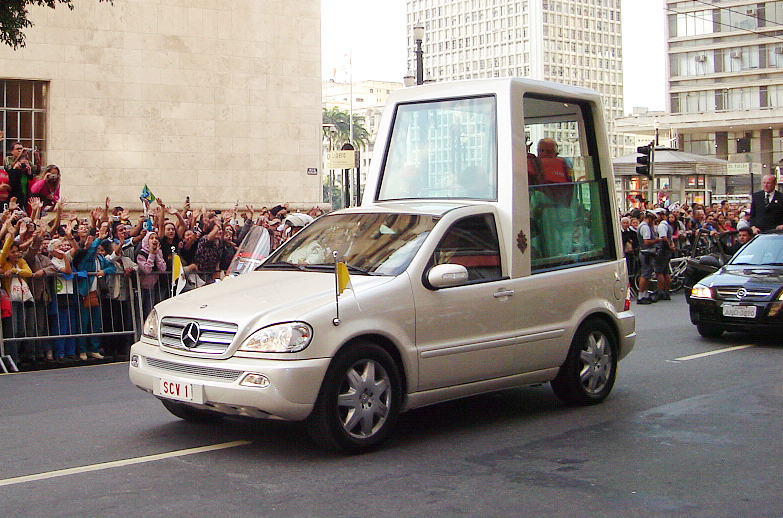 Profound gratitude to Rich and Sue Greenberg for welcoming us, to Minnesota, their home, and the bridge table.  Words are inadequate for Sue, the officers, game directors, and volunteers who make the game so pleasant….not to be taken for granted, find a moment to thank them, for the least expensive $4 entertainment bargain in Olmsted County.  Better than cheap gin.
The time in Rochester was special; a confluence of memorable events never to be duplicated.  Your time and my space won't allow the mention of all your names, but you know who you are.  The likelihood that I will continue bridge is less than zero.  I'm told you can play "online", a few clicks here and there, but  my self-imposed computer time is limited to less than an hour each day.  I've confirmed that time and interactions are better spent in the tangible world.  Time, especially in our golden age, is the only thing you own for certain, and the computer is an un-indicted burglar of time.
A personal trifecta ; Lynn's ongoing care, maintenance of an 1855 farmhouse, and a fleet of old cars in the barn, are schedule enough.  I do read the newspaper bridge column to Jack, but he insists on being south (always the declarer) and seeing all four hands at once, so I have to partner with a stuffed bear.
"
you reneged again, you're the jack of spades, this is the jack of hearts"
Since too few fellow players had actually seen my wife, there was speculation that no such person existed, that she was a fictitious character in a contrived sympathy scam.  Below, photographic evidence, untouched, after a Sunday afternoon ride and an hour under the hood sniffing motor ether.
When we return to Rochester for brief follow-up visits to the clinic, I'll make an attempt to find a partner for a session or two.  When I pull the red 'alert' card, it won't be to describe an obscure convention signal, but to warn the table,  "I'm packing heat in the form of a .357 magnum".
I'm Fr. Charles and I approve this message.
©insightout2012