A retrospective, 5July2013
Community pride is manifested in many forms, e.g., Tulsa, OK (birthplace of Garth Brooks), Dyersville, IA (farm location of the movie, "Field of Dreams"), Tryon, NC (The Bulletin, smallest daily newspaper in the U.S.), the list becomes infinite.
DeTour Village, an aptly named town at the eastern tip in the Upper Peninsula of Michigan, is so small it reflects 30 years in reverse to highlight its most recognized achievement.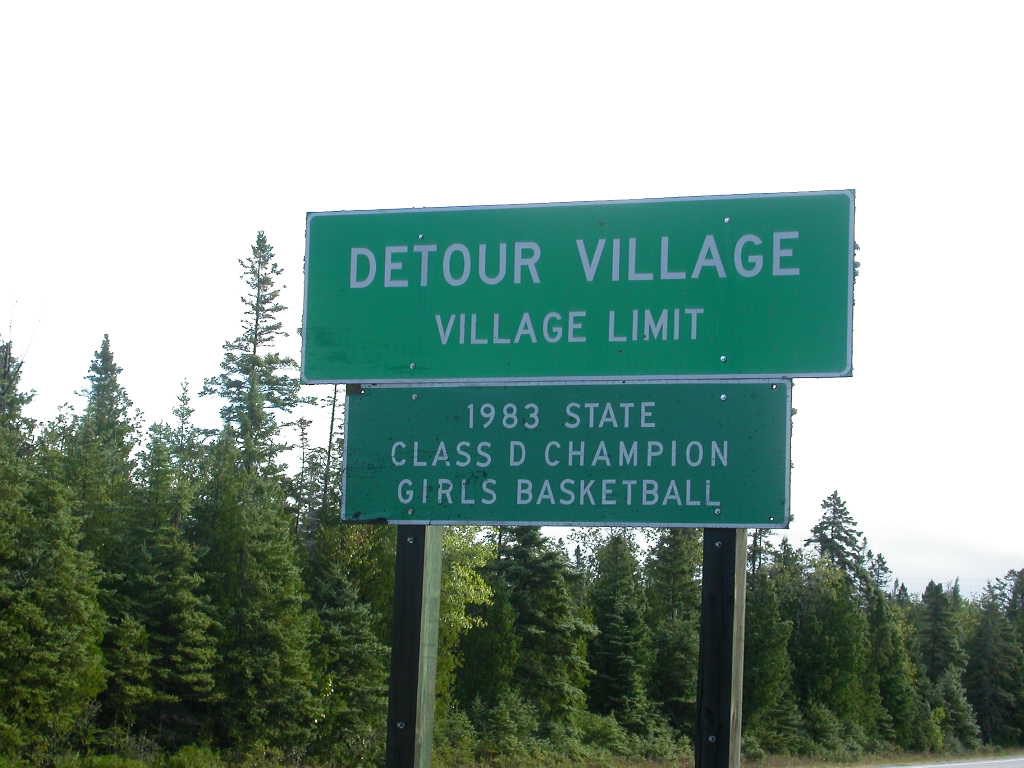 Reaching DeTour is simple. After crossing the Mackinac Bridge, turn east on state road M-134, uninterrupted, and ride the north coast of Lake Huron; the last, pristine, undeveloped shoreline on the entire Great Lakes basin. No McMansions, glitzy marinas, or requisite, garish vinyl clad condos. Locals refer to the highway simply by an adjective, the "Scenic".
Located at the end of a forty mile cul-de-sac, a mere 3 miles across the St. Mary's River to Saint Joseph Island, Canada and a claimed population of 420, it is home to the 1983 Girl's High School basketball champions, the DeTour Red Raiders, with a record 26-0. One year prior, the 1982 team, 26-1, lost only the state championship game. By a single basket.
No fluke however, as the David F. Miller coached team, in five years from 1981-1985 amassed a record of 124-5. Those are John Wooden, Adolph Rupp, Red Auerbach numbers.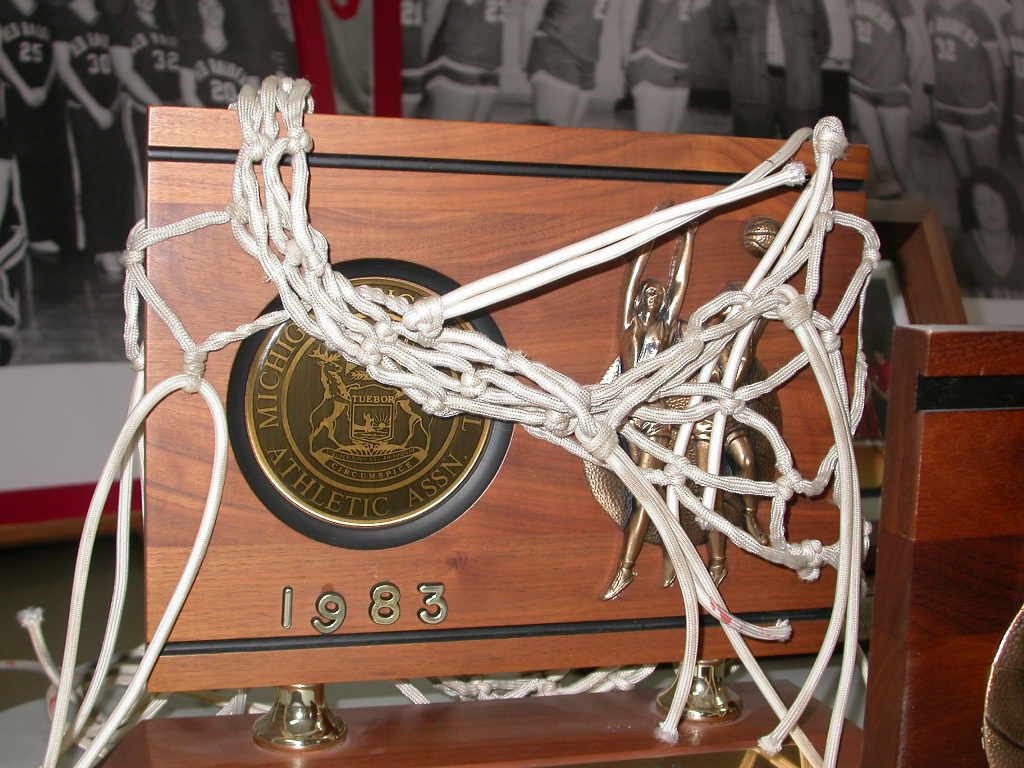 Coach Miller today: a little less hair, the 80's leisure suit retired, his presence still commanding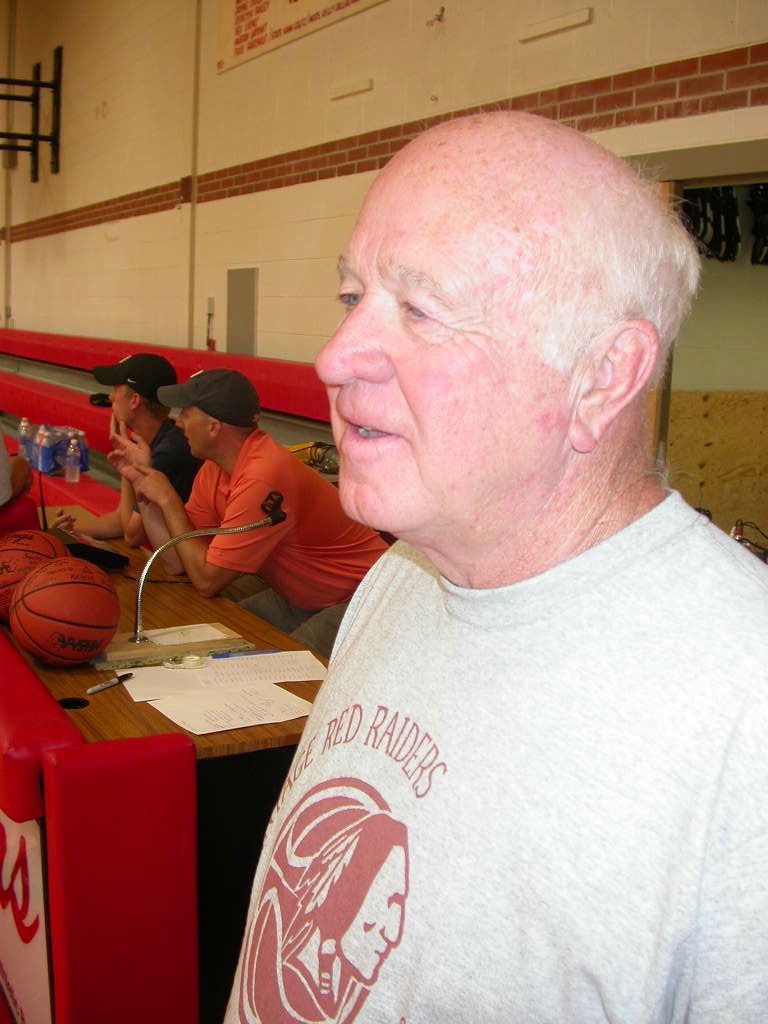 Tonight, a reunion game to commemorate the victory, pitting the 1983 squad vs. the current 2013 team, has packed the gymnasium with more than 800 friends, neighbors, alumni, children, parents. The pre-tipoff tension is palpable. The 50/50 lottery pool totals a tidy $756.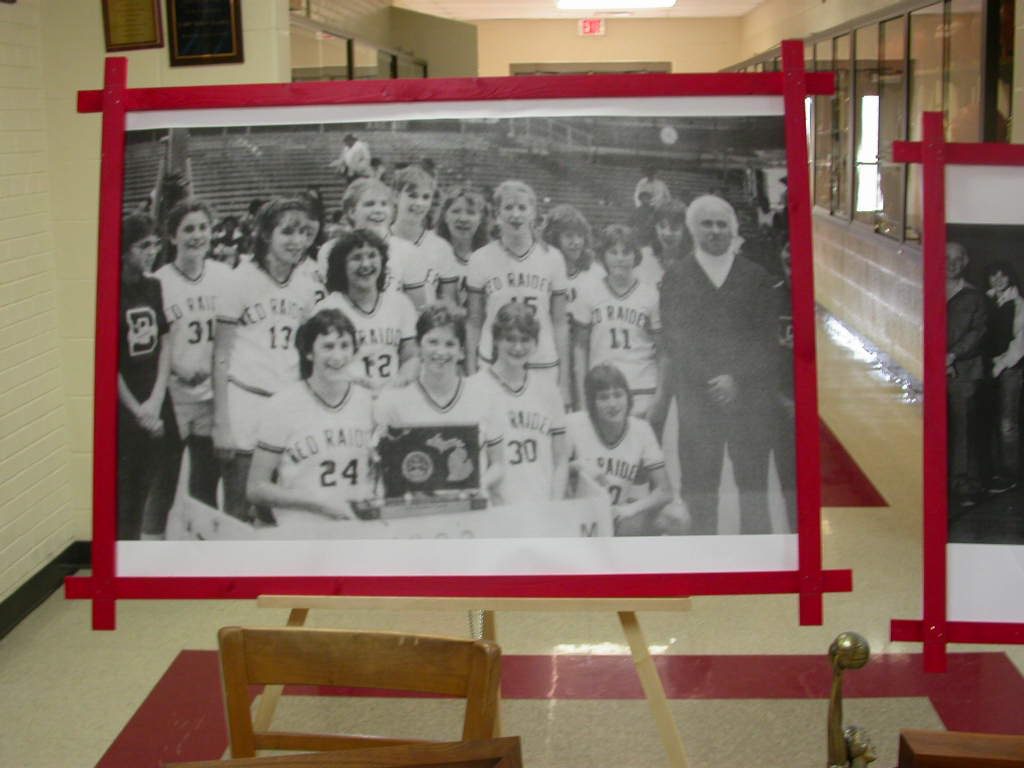 19 players from the three decade past era have returned and practiced in advance. They are not quite as buff as their championship photo. All nearing 50 y/o, their enthusiasm and competitive spirit have been ameliorated by menopause, marriage, child-bearing, and a few divorces. One, a gorgeous, statuesque, and pony-tailed blond, has six children and four grandchildren. She could easily audition a Celebrex or Cialis commercial on network television.
"Let's pretend we're 18 again"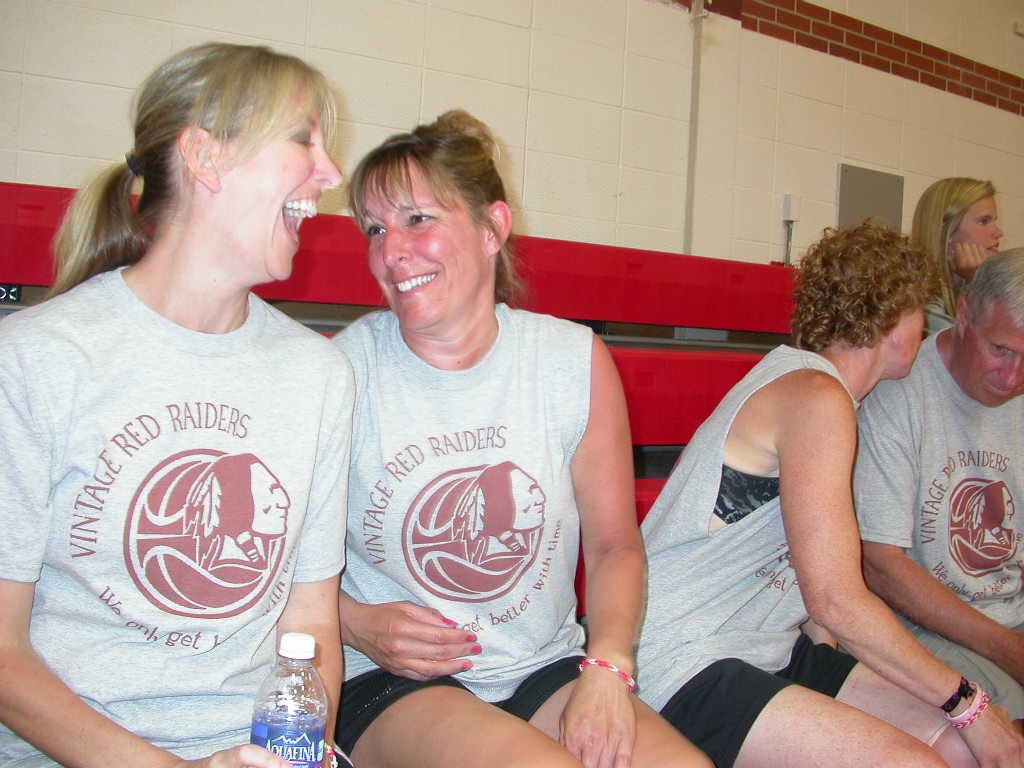 The game atmosphere is intense. Perspiration trumps inspiration, defense is tight, elbows flay, this is serious s##t. At the end of the 1st quarter, the elderly prevail, 4-2, but as the first half buzzer sounds, a nail biting 13-13 tie. The overflow crowd cheers every shot and roars at each score.  Teen-aged boys cheer their mothers on and boo their female classmates.  The battle of the sexes.  Shooting percentages, also in the low teens, but no one is keeping statistics.
What matters is that on this July Fourth weekend, small town America was the shining moment, a reunion night, a generational memory to savor for a lifetime. Briefly, time stands still, a time to be thankful we're not in Kabul, Cairo, or Damascus, but in a high school gym adorned with a championship banner adjacent to the American flag.  Long may they both wave.
The final outcome.  Unimportant.
The Detour girls basketball team won.
And I did not win the 50/50 drawing.
Willie Nelson could sing, but he wasn't always right;
Headed down life's crooked road,
a lot of things I never knowed
And because of me not knowin'
I now pine
Trouble got in the trail
spent the next five years in jail
Should have read that detour sign
Detour there's a muddy road ahead, detour….