Dateline:  Tucson, AZ, 12Feb2017
Paqui Indian Reservation, Casino del Sol
February, dreary, overcast days, often stormy, is, by cosmic design, the shortest month.  However, tucked between Valentine's Day to the left and President's Day to the right is the birthday of the most attractive national icon.
Dressed in a lemon chiffon gown, pacing 15′ of runway, nightly, between the evening news and unrealistic network fare, yes….it's Scott Pelley.
Of course, only a rumor, but if you guessed Tiger Woods or Rosie O'Donnell, strike three, you have landed on 'lose a turn'.  Devout wheel watchers know that Feb. 18, 2017, is the 60th birthday of the beloved Vanna White.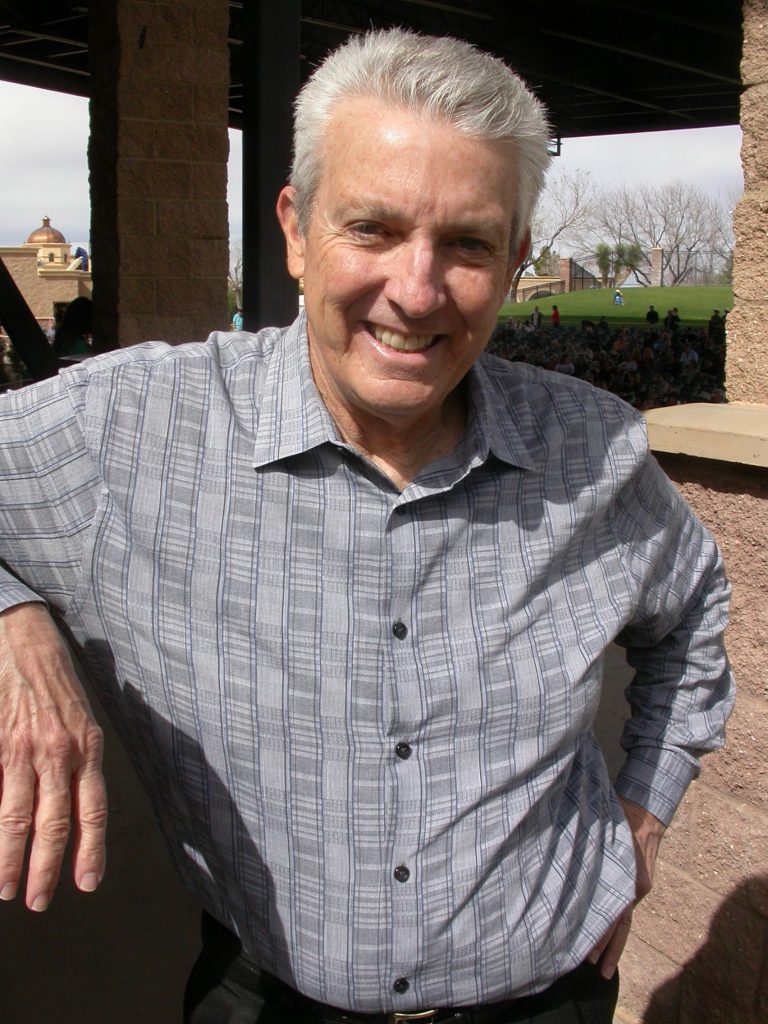 With the remote click → ABC's  KGUN, Tucson, AZ, popular anchor and professional photographer, Guy Atchley, directs viewer attention to the Wheelmobile, the Casino Del Sol amphitheater, and your chance to become a contestant on America's favorite game show.  Why not ?
Sooo, several thousand hopefuls show up, vieing for the opportunity to 'audition' on stage, be interviewed, and participate in puzzle solving.  Few, however, are chosen, as names are drawn from the golden drum, a lottery like device without ping-pong balls.  Odds on being selected, ~ 1 in 50.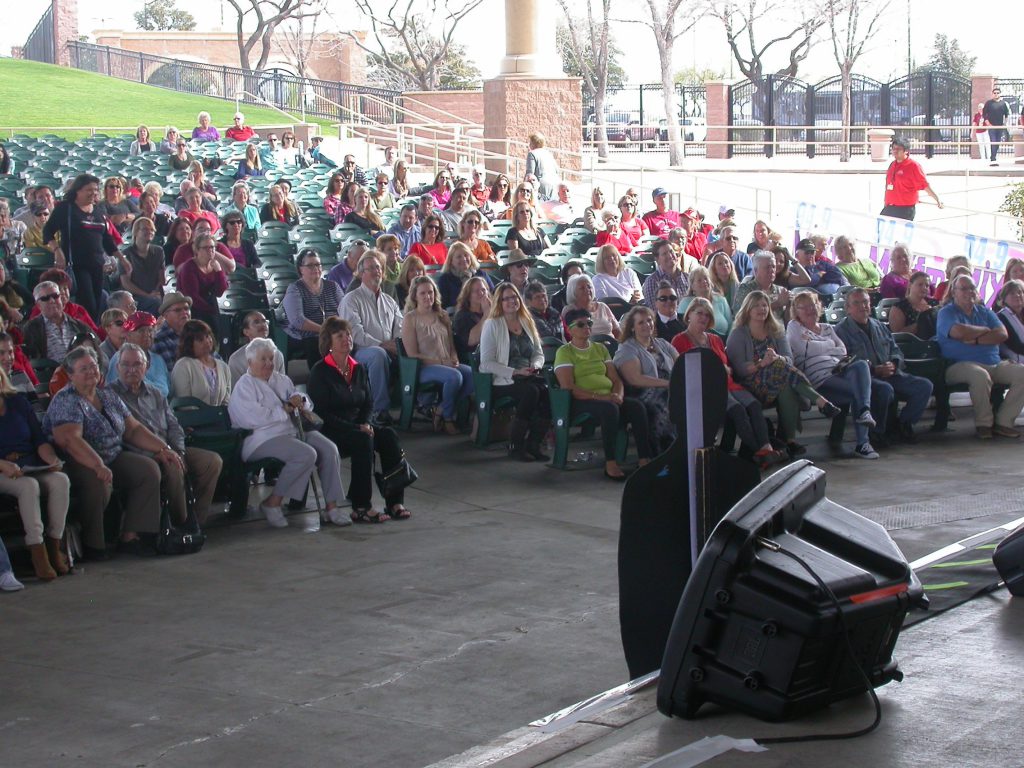 The atmosphere is electric.  Hopefuls arrive, some in costume, carrying signs.  Loudspeakers blast away the Isley Brothers, "Shout", women dance on the stairs, the emcee works the crowd into revival tent frenzy.  Gospel, rock, camera, lights, resort vacations, cruises, a chance to win one million $, oh the humanity.
By divine intervention, I am the 8th name drawn.
Entering stage right, 1st, sign the release statement, 2nd, pose for an official photo, 3rd, be seated and take instruction on behavior from the staff sargeant (Justin Timberlake look-a-like).
Justin, a Wheel employee, moves in on a KGUN staff member, no papparazzi, please.
If you've ever been arrested and booked, this is similar, however contestants are not allowed the one phone call.  Seems fair enough, as there is no fingerprinting, polygraph, or urine sample required….let's party.
The 'faux' Vanna is a lovely young woman, ⅓ the age of the real article, adept at printing letters, but may have partied last night.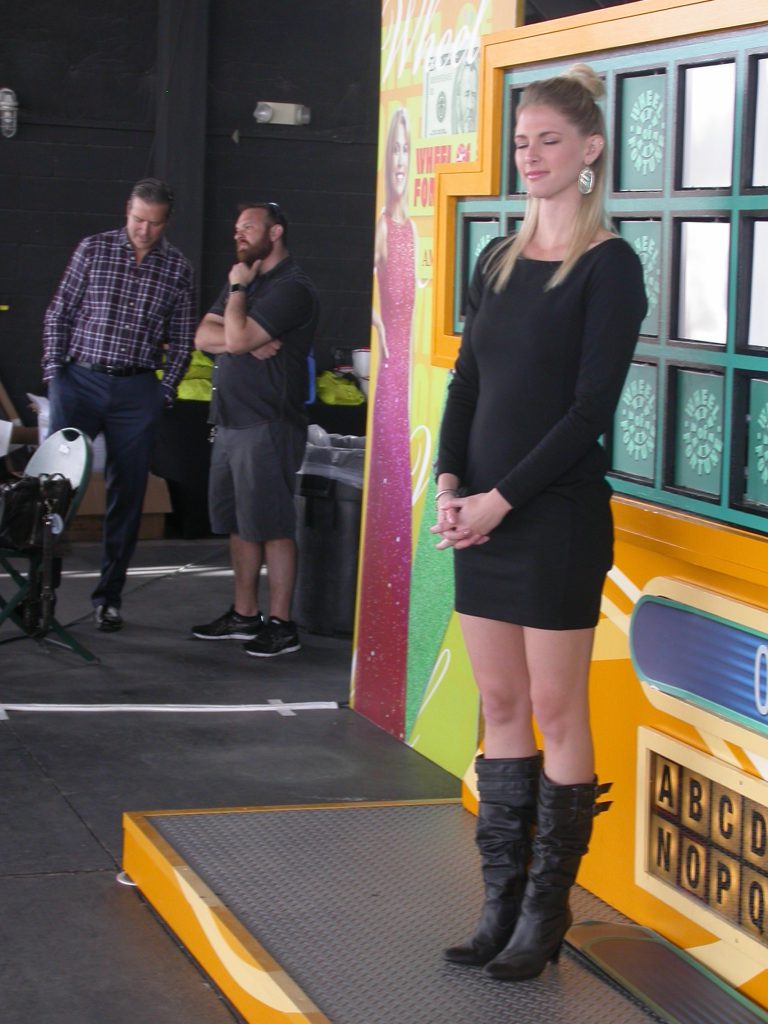 Our team solves the puzzle, the prize wheel is spun, and five of us win the big surprise, a Wheel of Fortune exercise bag, containing;
baseball cap
tee shirt
key fob
lapel pin
bookmarks
Who is reading books…?…. this is delerium.  Halleluia, Sister Vanna.  Will any of us be selected to appear on the show ?  Not so fast.  A few, perhaps, but only if invited to the next level audition in a month.  Pre-requisite vetting, background check, and signing a non-disclosure agreement may be on tap, all of which narrow this writer's chance to zero.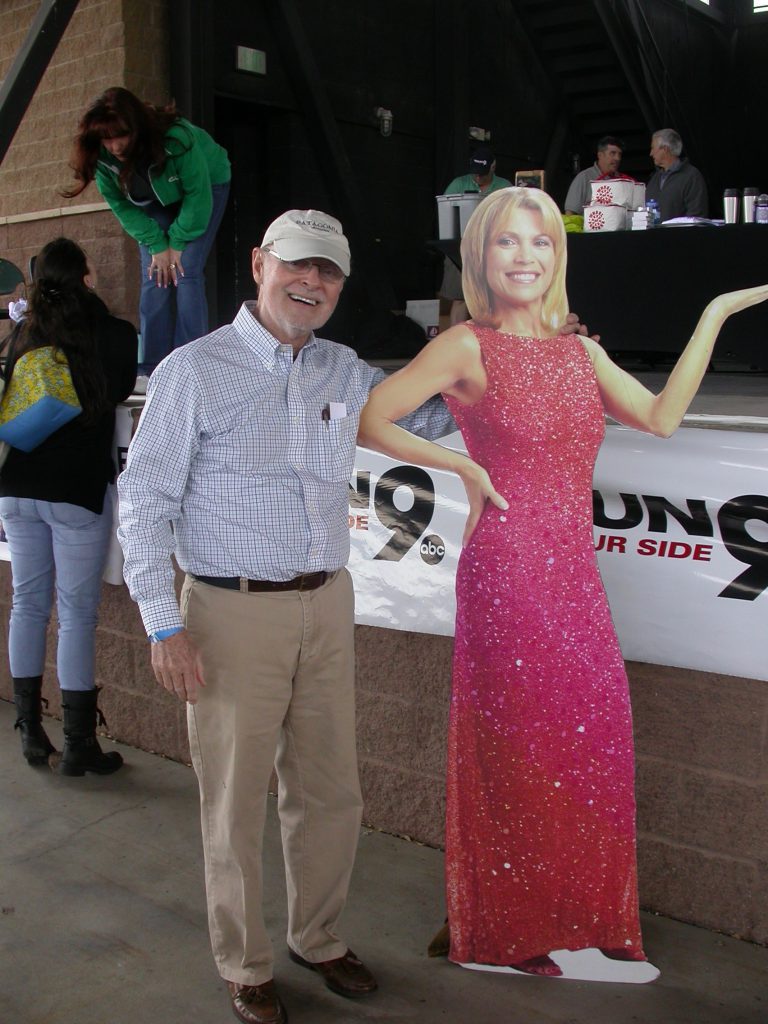 Finally, when asked to pose with a two dimensional Vanna, a quick blast of desert air forces her to assault my hand in an inappropriate advance, a cardboard calamity.  Under advice from legal counsel, I've been advised to sue for damages; emotional anguish, sexual battery.  
120 volts of embarrassment.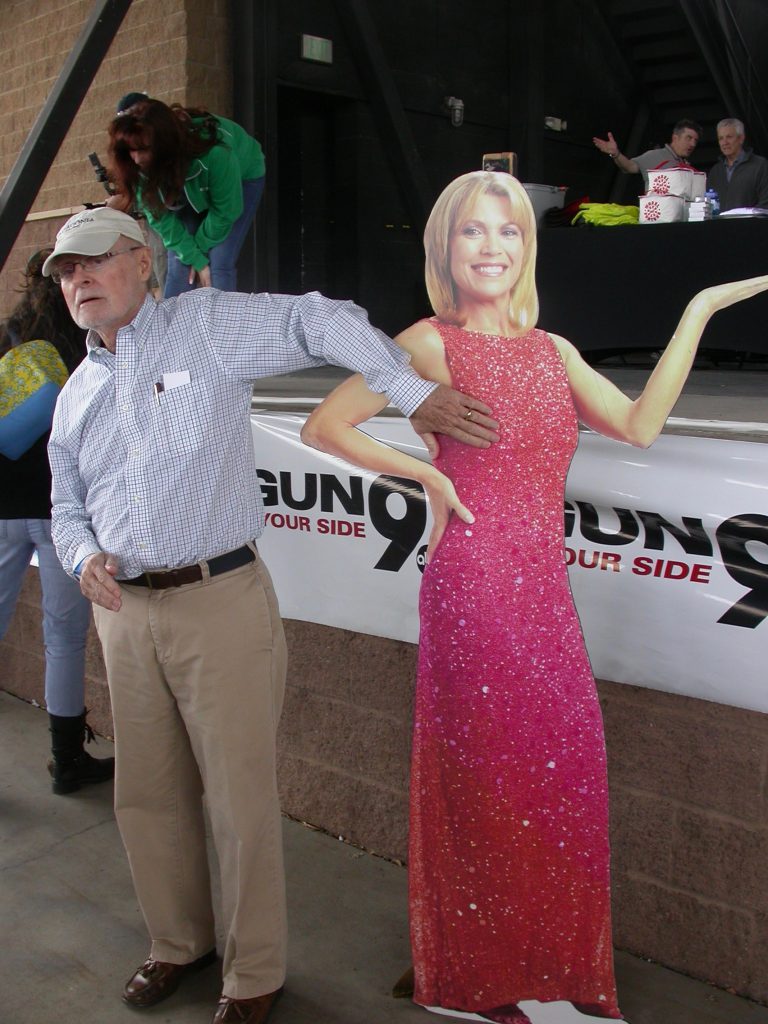 Naturally, as a compassionate soul, the charges will be dismissed should I be selected to appear, live, on the Sony Pictures, Hollywood stage set.
Later, after sibling counseling and 0.5 mgm Xanax®, my brother and his wife prep the family pet, Foxy, to exhibit the day's bounty.  None of which will be seen on Animal Planet© or eBay©.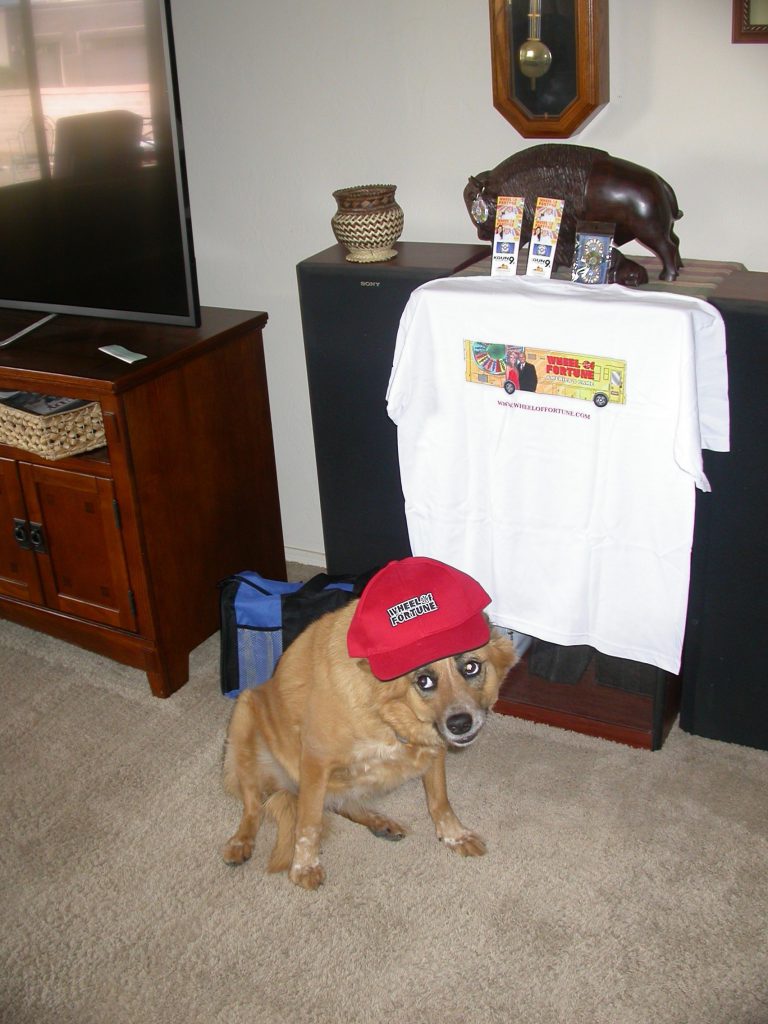 Foxy, a professional actor, received compensation for this appearance..
Will my bucket list be fulfilled…meeting Vanna in person ?
Will Sony be willing to settle amicably, out of court ?
Stay tuned……….
and Happy Six-Oh, Vanna
References to Sony Pictures©, Wheel of Fortune©, courtesy of Merv Griffin Enterprises©, all rights reserved
©insightout2017